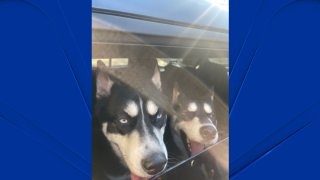 State troopers said they were able to rescue two Huskies that were running along the right shoulder of Interstate 95 South in Bridgeport Monday afternoon.
State police said they were notified of the endangered dogs at about 2:20 p.m.
Troopers found the Huskies in the median in the area of exit 26. The dogs had crossed over multiple lanes of traffic, according to authorities.
The dogs were rescued and taken to Bridgeport Animal Control. Officers said they'll remain there until the Huskies' owner can be identified and contacted.