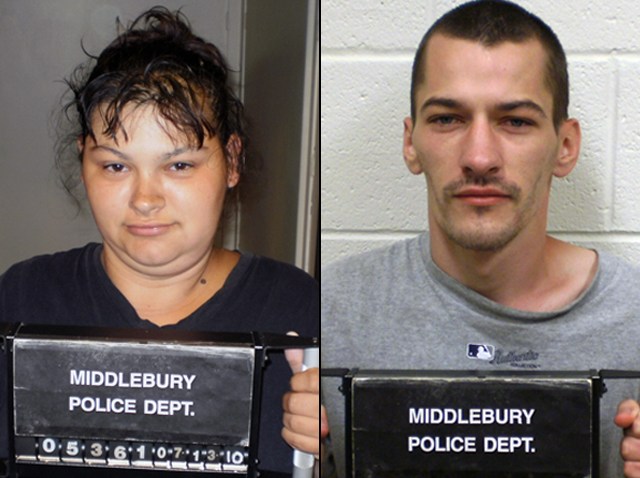 On Sunday, Torrington police received a tip that several young children were unsupervised and found them living in squalor. After a multi-town search, the parents are being held on bond and the children have been placed in state Department of Children and Families custody.
Inside the Wilson Avenue apartment, police said, they found four children, between the ages of 4 months and 5 years, with a babysitter who would not have been able to get up if they needed help. He had been drinking and has a handicap, the Waterbury Republican-American reports.
One of the children was sleeping in a dirty crib and another was sleeping on the floor near some food, officials said.
One child was so sick with fever that she needed medical care, the Republican-American reports.
Police notified the state Department of Children Youth and Families about the conditions and the four children were evaluated at the hospital.
On Monday morning, they were returned to their mother, Erica Shaw, 28, at DCF's recommendation, police said.
During their investigation, police charged Cassandra Bull, a friend of the children's mother, who is accused of assaulting a police officer while trying to leave the scene of an investigation, according to court records. No other charges were filed until Tuesday night.
In the meantime, the case got the attention of a local court. Because of the assault charge, the case came to the attention of Judge Charles Gill, who wanted to know why the children's mother hadn't been arrested and urged DCF to do something for the children.
DCF would not comment, but by Tuesday afternoon, DCF obtained a temporary custody order for the three girls and two boys on Tuesday afternoon, according to Middlebury police.
But, the children were nowhere to be found. After looking in Torrington, Oxford and New Milford, there were no leads.
The next step was an amber alert, according to Middlebury police, and it would have been issued for the five children, Shaw, and the children's father, Mark Johnson, 30.
But, a Watertown police dispatcher started researching vehicle information and thought she had a lead on the car, so she called Middlebury police to say she believe the car had broken down in Middlebury.
It was – on Route 64 and Charcoal Avenue.
The Plymouth Neon, which is designed for four adults, had only three car seats, police said.
It had broken down several times and the children had been in the car for most of the day, hungry and thirsty, police said.
Two of the young children were in dirty diapers and there were about nine other dirty diapers in the vehicle, police said.
Shaw and Johnson were charged with risk of injury to a minor and bond was set at $2,500 for each.
They made their original bond on Wednesday, appeared in court and the bond was raised. Bond was set at $75,000 for Shaw and $50,000 for Johnson. They were told to get a public defender.
As the state's attorney accused Johnson of trying to avoid police detection, the father of five shook his head.
The children were again taken to be evaluated and will be turned over to DCF.