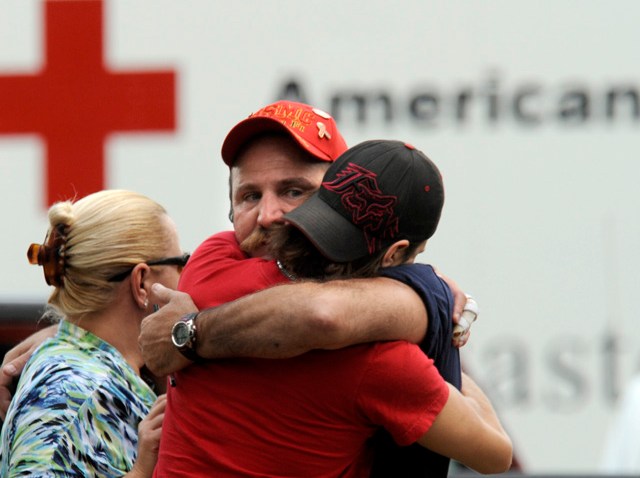 A disgruntled employee was being escorted from Hartford Distributors after a disciplinary hearing on Tuesday morning when he fired the first shots in a mass shooting that left eight coworkers dead and two injured, officials said.

Then he turned the gun on himself, police said.

Union officials have identified the shooter as Omar Thornton, 34, a driver at the beer distribution company who was asked to resign or be fired for stealing beer from the warehouse after being shown a video of the thefts, the Associated Press reports.
"Then he went out on this rampage," company vice president Steve Hollander told The Associated Press. "He was cool and calm. He didn't yell. He was cold as ice. He didn't protest when we were meeting with him to show him the video of him stealing. He didn't contest it. He didn't complain. He didn't argue. He didn't admit or deny anything. He just agreed to resign. And then he just unexplainably pulled out his gun and started blasting."

"We're heartsick over this," union representative John Hollis said.

As many as 70 people might have been inside the warehouse at the time of the shooting because of a shift change. Victims were scattered all over the complex, both inside and outside.
"We don't know whether Thornton walked around the warehouse randomly with his handgun, but victims were found in different parts of the building," Chief Marc Montminy said.

The rampage is the nation's deadliest since 13 people were shot and killed at Fort Hood, Texas, last November, and the worst workplace shooting in Connecticut since 1998, when a state lottery worker gunned down four supervisors before committing suicide.
Thornton was being removed from the facility at 131 Chapel Road, in Manchester, around 7:30 a.m., when the tragedy began.

Police said the shooter was alive when they arrived and it appeared he went into an office area and shot himself. Police shuffled employees to a secure location in the building and police interviewed them about what happened.

Around 8:15 a.m., they found the shooter, dead from an apparent self-inflicted gunshot wound, according to Manchester police.

Other units searched the suspect's car and the building to ensure that there were no explosives.

Police have identified the victims killed as Victor James, a 60-year-old truck driver and grandfather of four, who planned to retire at the end of the year.
"It was a loss of a dear friend of 40 years, and I was shocked, anger," said Joe Williams, a family friend. "Vic was a good man, a good family man, a good husband, good father."
Police also said Francis Fazio Jr., 57, of Bristol; Douglas Scruton, 56, of Manchester; Edwin Kennison, 49, of East Hartford; William Ackerman, 51, of East Windsor; Bryan Cirigliano, 51, of Newington; Craig Pepin, 60, of South Windsor; and Louis Felder Jr., 50, of Stamford were killed.
Cirigliano was president of the Teamsters Local 1035.
The Stamford Advocate said Felder was the director of operations at the beer distributor.
Steven Hollander, a vice president at the company, was identified by family as a gunshot victim. He was shot in the face and the arm but survived, and was released from Hartford Hospital Tuesday afternoon.
"It's just shocking. It's still shocking. It's just unbelievable," said his wife Susan Hollander.

"It was just right here, right about here, and right here. It's superficial, he's very fortunate," she said describing her husband's gunshot wounds.

Jerome Rosenstein, 77, of West Hartford, was also shot and remains in serious condition.

Hartford Distributors executive Brett Hollander, whose family owns the distributor, said he does not know the shooter well, and did not know how long he worked for the company.

Coworkers were shocked, including Kathy George, who was unable to get to work because of barricades.

"I'm trying not to cry. It's just shocking, especially Omar. I didn't know there was a problem," she said.

"In the coming days, we will learn more about what happened. We will likely never fully understand why it happened. But an inexplicable – and indescribable – catastrophe such as this is a cruelly clear reminder that we must take time in our daily lives to appreciate how what we have," Gov. M. Jodi Rell said in a statement. "I have offered the resources of the state to assist the victims and their families wherever possible as well as the law enforcement, fire fighters and emergency medical personnel who responded to this horrific tragedy."

Police said they will be providing crisis assistance to families affected by the shooting. Families of those affected can call 645-5521, 645-5002 for information.
Copyright AP - Associated Press