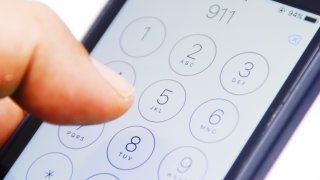 A fiber line cut led to service issues for Verizon customers that affected 911 calls in certain areas.
State police said Thursday afternoon the "issue is exclusive to Verizon carriers." As of Thursday evening the issue was fixed.
A spokesperson for Verizon told NBC Connecticut a fiber cut Thursday afternoon affected 911 service for wireless callers to some 911 centers in Connecticut. The company said areas north of Hartford were not affected.
Berlin Police Tweeted that they are not receiving 911 or routine calls from Verizon customers and that Verizon is aware of the issue and is working to restore service as quickly as possible.
Verizon customers can call 860-250-0350 to reach the Berlin Police Department.
Branford police posted that they have received information there is a Verizon cell phone service outage and customers are unable to make or /receive calls.
They urged Verizon cell phone customers in need of assistance from police, fire, EMS to text to 911.
Bristol Police also Tweeted about the issue.
Rocky Hill Police Department said they are not receiving incoming emergency or routine calls from Verizon customers.
Tolland County 911 is also reporting the issue.