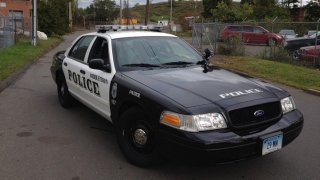 Police are investigating two shootings that happened in Middletown within days of each other and investigators said they believe the shootings are related.
Officers said the first shooting was on Wednesday, April 28, at approximately 10:45 p.m. on Maplewood Terrace. Nobody was hit by gunfire in the incident.
A few days later, authorities said a second shooting happened on Saturday, May 1, at approximately 6:45 p.m. A man suffered several gunshot wounds to his leg in the shooting, police added.
According to police, the two shootings are believed to be related and the people involved know one another.
On Wednesday, police took Antwan Rufus into custody on Main Street in connection with the shooting May 1 on Williams St.
He has been charged with criminal attempt at assault in the first degree, assault in the second degree, unlawful discharge of a firearm, criminal possession of a firearm, reckless endangerment in the first degree and commission of a class A, B, C felony with a firearm.
He was held on a $500,000 bond.
Detectives are still investigating that shooting as well as the shooting on Wednesday April 28 on Maplewood Terrace.
Police are investigating and ask anyone with information to call the Middletown Police Department Detective Bureau at 860-638-4153.