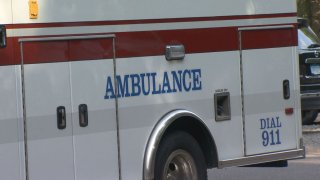 A 43-year-old man has died after a stabbing in Stamford Wednesday morning.
Police said they responded to Hamilton Avenue around 1:11 a.m. to investigate a report of a stabbing victim inside a car and they found Jimmy Louis with several stab wounds.
Officers performed CPR and Louis was transported to Stamford Hospital, where he later died from his injuries, police said.
Louis has family in Stamford. Police said he did not have a residence at the time of his death.
Police said there were two crime scenes. One was on Hamilton Avenue and the other was on Culloden Road, near the intersection of Penzance Road, police said.
An autopsy was performed and Louis' death was ruled a homicide.
The Stamford Police Department and the Stamford State's Attorney's Office are investigating.
Anyone with information about the victim or who had had recent contact with his is urged to call the Major Crimes office at 203-977-4421.