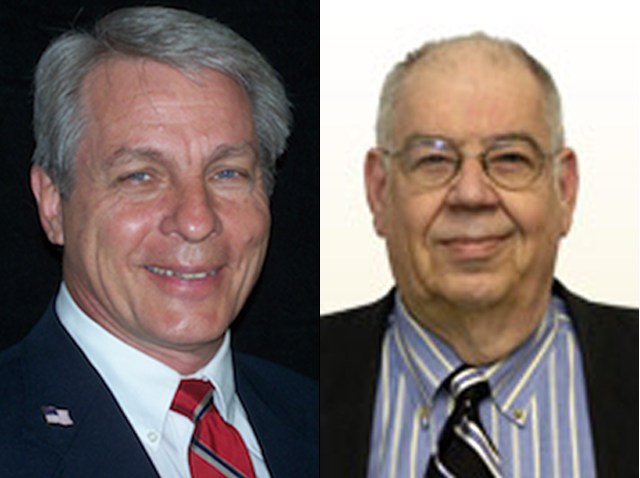 The race to replace disgraced former state senator Tom Gaffey is getting nasty over a push poll question for a state race asking voters if they would support an openly gay official, according to reports.
One of the questions on the "push poll" is, "Would you be comfortable or uncomfortable with a state senator who is openly gay?" the New Haven Register reports.
State Democratic chairman Nancy DiNardo told the Register she believes that surrogates for Leonard Suzio, the Republican running for the 13th District seat, are behind a "push poll" indirectly attacking Thomas Bruenn, the Democratic candidate, who is gay.
"Attacking a candidate because he is gay has no place in Connecticut politics," DiNardo said in a statement . "Leonard Suzio should take responsibility for this push poll and apologize immediately. The Connecticut Republican Party and Senate Republicans should join me in condemning this despicable attack."
Suzio told CT News Junkie on Thursday that he skeptical about the telephone poll is being conducted because no one associated with his campaign has knowledge of it.
"I think the Democratic party is trying to gin up controversy where there is none," Suzio told CT News Junkie. "I don't believe in exploiting someone's sexual identity for political gain."
Chris Healy, chairman of the state Republican party, told New Junkie the party does not engage in this kind of polling, "it's like writing a slur on a bathroom wall" and, at times, candidates have paid for a push poll just to blame it on the opponent.
Gaffey pleaded guilty earlier this month to larceny. The chief state's attorney's office accused Gaffey of billing the Legislature and his political action committee for expenses associated with trips he took to conferences around the country from 2004 to 2007.
Follow us on Twitter @NBCConnecticut, on Facebook, and sign up for breaking news SMS alerts on your phone by texting "CTBREAKING" to 622669.