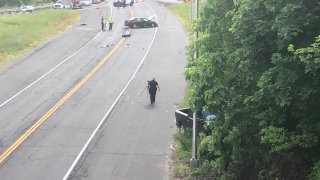 Police said two people were injured during a car crash on Route 190 in Enfield Monday afternoon.
Both directions of Route 190 in Enfield were closed by the Pearl Street overpass because of a two-car crash, according to police. The road has since reopened.
Officials said two cars crashed head-on at approximately 4 p.m.
One person was transported to Hartford Hospital with serious life-threatening injuries. Another person was transported to St. Francis Hospital with minor injuries, according to officials.
The crash remains under investigation. Anyone with information is asked to contact Office Nisyrios at 860-763-6400 ext. 1359.