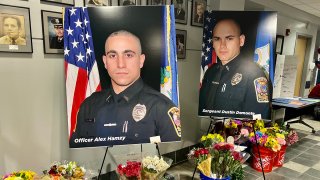 A scholarship has been created in honor of two Bristol police officers who were shot and killed while on duty last October.
The Bristol Board of Education and the Bristol Police Department worked together to establish the Lt. Dustin DeMonte and Sgt. Alex Hamzy Public Safety Scholarship Fund at Main Street Community Foundation.
Officials said the scholarship is available to graduating high school seniors at Bristol Central High School and Bristol Eastern High School who are pursuing a major in public safety and/or criminal justice through education at a community college, state college or a private college/university.
There are two $1,500 scholarships that will be awarded to one student at each high school.
The deadline for application submissions is March 10, 2023. More details about eligibility can be found here.
Lt. DeMonte and Sgt. Hamzy responded to a 911 call on Wednesday, Oct.12, that state police said appears to have been a deliberate act to lure law enforcement to the scene.
Hamzy died at the scene. DeMonte was transported from the scene and was pronounced dead, authorities added.
A third officer who was at the scene, 26-year-old Officer Alec Iurato, was injured and fired the single shot that killed the suspect in the attack.
The scholarship honors Lt. DeMonte and Sgt. Hamzy for their selfless service and remembers the sacrifice both made to the community of Bristol, according to the Main Street Foundation. Information about the scholarship fund can be found here.