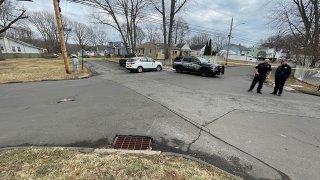 East Haven police took a man into custody after he barricaded himself in a home Tuesday afternoon.
Officers responded to the home on Stevens Street after receiving a 911 call about a domestic dispute. The woman who called police told officers that her husband was drunk and ran into a detached garage. She told police her husband also had a hatchet.
When officers arrived, they said the man pointed a gun at police when he came to the door of the garage.
Police used a non-lethal tactic to take the man into custody.
He was treated for minor injuries before being taken to Yale New Haven Hospital for an evaluation, police said.
Momauguin School was locked down during the incident as a precaution, police said.
The gun the man had turned out to be a BB gun, according to police.