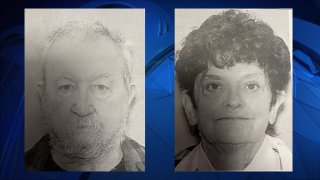 Connecticut State Police have issued Silver Alerts for a married couple who is missing from Hartford.
State police said 77-year-old John Wolak and his wife, 73-year-old Barbara Wolak, have been missing since Saturday.
John is described as being 5-foot 11-inches tall and 210 pounds. He has grey hair and blue eyes.
Barbara is 5-foot 3-inches tall and weighs 140 pounds. She has brown hair and brown eyes.
Investigators believe the couple may be together.
Authorities have not released details about where John and Barbara were last seen.
Anyone with information is asked to contact Hartford Police at (860) 757-4000.