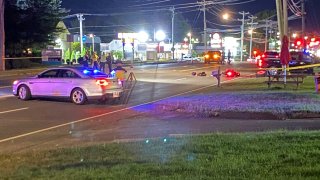 A motorcyclist has died after a crash on Queen Street in Southington on Tuesday night.
Police were called to Queen Street around 6:20 p.m. after getting a report of a crash involving a motorcycle and a vehicle with injuries.
According to investigators, 39-year-old David Sanabria, of Plainville, was driving a 2016 Guzzi Moto motorcycle northbound on Queen Street. At the same time, a Southington man was driving a 2021 Chevrolet Silverado southbound.
The motorcycle and the vehicle collided in the northbound lane of Queen Street, police said.
Sanabria suffered serious physical injuries in the crash and was transported to a local hospital. Authorities said he later died of his injuries.
The other driver involved in the crash was not injured.
The crash remains under investigation. Anyone with information is asked to contact Officer Neal Ayotte #393 by phone at (860) 621-0101 or by email at nayotte@southingtonpolice.org.