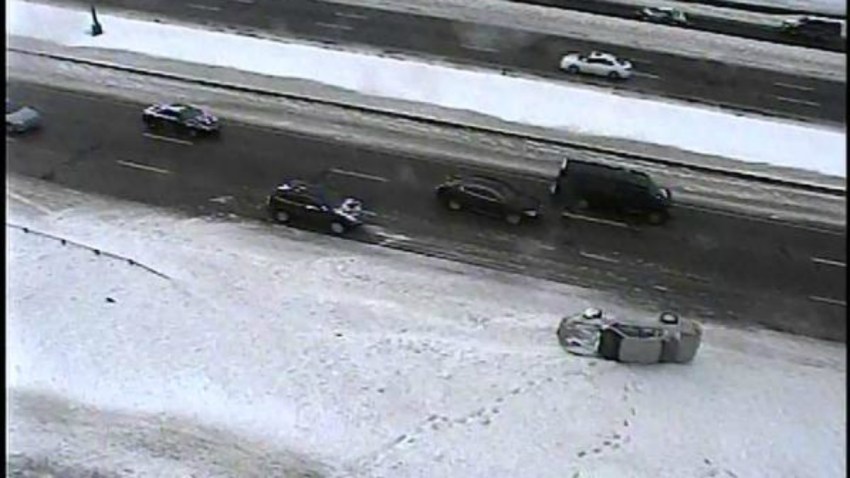 The snow stopped falling last night, but the lingering effects of the storm included rollovers and spin-outs and hundreds of school delays and closings on Tuesday.
The storm on Monday added more than a foot of fresh snow to parts of the state that already had significant snow piles from the blizzard last week.
One problem area was the northbound side of Merritt Parkway in Fairfield, where police responded to several crashes.
There were also several rollovers, including one on the Tolland Turnpike in Manchester. Another car flipped on its side on Interstate 84 in Waterbury, but no injuries were reported. There was also a rollover on the Merritt Parkway in Westport.
All morning, highways were clogged after crashes, including on I-84 west in Vernon, I-84 east in New Britain I-91 south in Windsor and I-91 North in Rocky Hill.
Earlier, police responded to spin-outs on I-84 east in East Hartford and on I-95 south in East Lyme. Several spinouts caused delays on I-91 south, causing delays from Windsor Locks to Hartford.
Much of interior Connecticut received up to a foot of snow – or more. Weather watchers measured 14.3 inches in Weston, 13 inches in Avon and 12.5 inches in Enfield. Check our running list of snow totals here.
The storm, which started as snow, then switched over to sleet before turning back to snow, also impacted air travel at Bradley Airport.
Temperatures will be bitter cold today and we could see more snow later this week. Check the forecast for updates.
Now, the NBC Connecticut meteorologists are focused on more chances for snow this week.