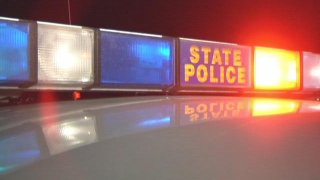 A man from Uncasville has died after a crash on Interstate 395 in Norwich on Tuesday night.
State police said 23-year-old Joshua Prince, of Uncasville, was driving southbound on I-395 near exit 11 in Norwich when he veered into the grassy median and hit a metal post.
Prince's vehicle then came back onto the roadway, went across the left lane, over corrected and veered back into the median, troopers added.
After hitting the median, his vehicle hit the metal beam guard rail then rolled and hit a bridge abutment before landing between the abutment pillars, state police said.
Prince was pronounced dead at the scene from injuries sustained in the accident, according to authorities.
The crash closed both sides of the highway near exit 11 around 6:30 p.m. Both sides of the highway have since reopened.
The cause of the crash remains under investigation.