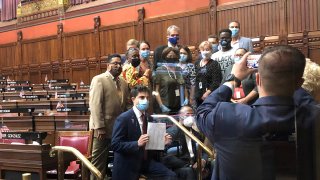 On Friday, lawmakers in the state House of Representatives passed a police accountability bill, 86-58, and the state treasurer is calling on the state Senate to pass the legislation too.
State Treasurer Shawn Wooden held a news conference on Monday along with Sen. Richard Blumenthal and other elected officials.
One controversial part of the bill removed "qualified immunity."
The current state statute prevents officers from being held personally liable for misconduct. This bill gets rid of that protection and an amendment that would have kept "qualified immunity" for police officers failed early Friday morning.
"I applaud the work of the house in passing this bill," Wooden said. "For many, this was the most difficult vote they have taken as well as the most consequential. But leadership is often uncomfortable. I applaud them for leading on this important piece of legislation. Tomorrow is the Senate's opportunity to lead and we are here to make sure that we make the case and that the Senate not squander this opportunity."
Democratic lawmakers said the language of the bill was adjusted so departments would hold the liability.
The bill also limits use of deadly force and calls for officers to face disciplinary action for not deescalating the situation.
The proposed legislation also calls for an inspector general to review deadly use of force cases.
"These kinds of common sense steps should be non-controversial and Connecticut is at the forefront and has the opportunity to be at the tip of the spear of this movement," Sen. Blumenthal said.
The bill now moves to the state Senate.