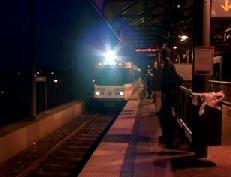 Police have arrested a man accused of accosting a woman on a New Haven train platform and dragging her while stealing her purse.
The woman, a 33-year-old New Haven resident, was alone, waiting for a train at the State Street, Metro North, Shore Line East train platform at 2 p.m. on Saturday when she was accosted by a man with a handgun, police said.
Police identified the suspect as Joel Deleone-Valentin, 34, of New Haven, who is accused of dragging her as he stole her pocketbook. He confessed to Metropolitan Transportation Administration detectives at their office, according to New Haven police.
MTA investigated and shared surveillance footage with several departments, and police took Deleone-Valentin into custody at gunpoint behind an abandoned church at 189 Union Ave.
He was charged with first-degree robbery, second-degree larceny and carrying a facsimile firearm.
Follow us on Twitter @NBCConnecticut, on Facebook, and sign up for breaking news SMS alerts on your phone by texting "CTBREAKING" to 622669.