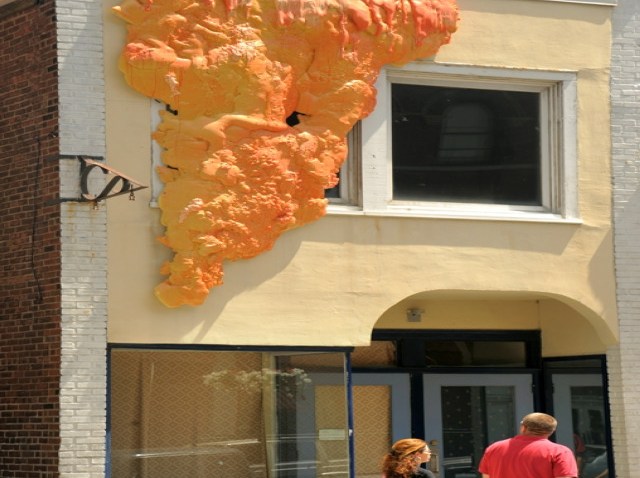 They are still talking about the Blob -- not an alien, not a hazardous spill but a gigantic art sculpture hanging from the top of a building in New London.
It was hard not to miss -- a 12 foot long dripping of orange urethane foam stuck to the wall of 46 Bank Street on Tuesday. Like it or not, it caught your eye.
Rubberneckers slowed traffic, children cried and adults sang, according to the New London Day.
The Blob was created 2 years ago by artist, Jesse Good, and was put up as part of a city initiative that allows artists to display their work in or on empty storefront buildings. But Good, along with a group of family and friends, took down the sculpture at the urging of the city's downtown development coordinator who is hoping to find a tenant for the vacant 2-story building.
News of the Blob's demise spread quickly -- about 70 students from the Dual Language Arts Academy, dressed in black with drums and horns leading the march, walked in a funeral procession down Bank Street from their school. Some of the students had helped Good put up the sculpture 2 years ago. They read eulogies and sobbed.
When it started to rain -- the crowd moaned and grieved. "It's tears for the Blob," a student cried out.
The Blob may be down but it's not gone -- The Day reports the Blob may reappear on the side of Homeward Bound Treasures on Golden Street.
The Blob may get a makeover as well -- Good tells the Day he's thinking of repainting it before finding a new home.
"Maybe silver," he said. "It's a new life."
Copyright NEWLD - The New London Day