More than 1,500 children heading back to Connecticut schools came to the state fleeing Hurricane Maria's destruction, but many cash-strapped districts are struggling to cover the unexpected cost of educating them.
A federal aid package is coming to help schools recover some of the costs, but NBC Connecticut Investigates has learned that the funding isn't enough for some school districts.
Katiria Rosario's family arrived in New Britain last November after Hurricane Maria dealt a fatal blow to the roof of their home in Dorado, Puerto Rico. The 12-year-old and two younger siblings enrolled in New Britain's Consolidated School district, where Rosario needed help catching up.
At first, "I didn't speak a lot of English," she said, but quickly improved after spending a third of each school day in English as a Second Language classes. New Britain also gave her 8-year-old brother Jadiel, who suffers from selective mutism, his first experience with special education.
Statewide, school districts absorbed more than 2,000 displaced students last school year. Many of them, like Katiria, headed to school with donated supplies and clothing, and headed home to hotel rooms and homeless shelters. New Britain expanded its bus route to pick Katiria and her siblings up during the months the family spent at a Day's Inn in Berlin and the shelter at Saint Patrick – Saint Anthony Church in Hartford, as is required by law for kids in transitional housing.
The arrival of more than 450 displaced students at Hartford Public Schools amounted to an emergency situation for Superintendent Dr. Leslie Torres-Rodriguez.
"It is more complex than just saying you require a teacher, you require transportation," she said.
The district added certified teaching staff and outreach services to help families grappling with a new language and unstable living arrangements.
"We hired the folks that we needed and we paid overtime if we had to for staff to get the job done," Torres-Rodriguez explained, "and that meant we were going to incur deficit."
School systems that welcomed students impacted by last year's natural disasters should soon see nearly $360 million dollars in aid from the U.S. Department of Education. The lion's share of the Emergency Impact Aid is going to Texas and Florida. Connecticut will get $10.6 million to divide amongst 47 school districts and independent schools.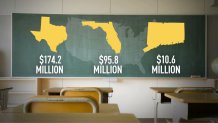 More than $2 million is intended for Hartford Public Schools, which spent over $3 million adding services. The state is chipping through a boost in Education Cost Sharing funding, but many districts will still come up short.
The aid amounts are based on a formula allocating $9,000 per child who is learning English. However, the average cost of educating a child in the U.S. exceeds $11,000, according to the National Center for Education Statistics. In Connecticut, the average cost per student is $19,000.
Senator Chris Murphy (D-Conn.) sits on the Appropriations sub-committee that developed the aid package. He addressed the challenge facing schools here in a statement to NBC Connecticut Investigates, saying in part, "Of course this is not good enough… our state did the right thing in welcoming kids displaced by disaster, and the federal government has a responsibility to help offset the cost."
NBC Connecticut Investigates reached out to Senator Roy Blunt (R-Missouri), who is chairman of that Appropriations sub-committee, asking how the funding amounts were determined, and his office declined to comment.
Overall, the number of students in Connecticut displaced by Hurricane Maria decreased by several hundred by the end of last school year to 1,734. With some schools in Puerto Rico closing due to declining enrollment, Torres-Rodriguez expects numbers in her schools may rise again.
Katiria is grateful for the extra help she had at school in New Britain.
"The teachers help you a little bit in Puerto Rico, but here they help you a lot," she said.
A chain of support starting with a social worker at her school helped her family move in to their new home in East Hartford. She's gaining confidence in her English and her future every day.
"It will be better here," she said, "better life."
See how much your school district may be receiving in Emergency Impact Aid here.