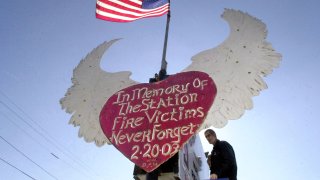 Seventeen years ago today, 100 people died in the tragic fire at the Station Nightclub in West Warwick, Rhode Island and eight of those people had ties to Connecticut.

The band Great White was playing at the club on Feb. 20, 2003 and pyrotechnics ignited flammable foam that had been put on the walls to reduce noise.
Victims of Station Nightclub Fire With Connecticut Ties Include:
Sam Miceli and Jude Henault, both 37, of Lisbon, who traveled together to see the show.
Melvyn Gerfin Jr., 46, of Groton, a husband and father of three, who worked for a radio station and received free tickets.
Ryan Morin, 31, a Thompson native, who graduated from Southern Connecticut State University.
Sarah Jane Telgarsky, a 37-year-old nurse from Plainfield.
Kristen McQuarrie, 37, of Ledyard, was a waitress at Foxwoods, according to the Boston Globe.
Daniel J. Fredrickson, 37, was affiliated with the Naval Submarine Base New London in Groton. He and Tracey Romanoff were a couple and both were killed in the fire.
In 2017, a memorial park opened at the sight of nightclub where the tragic fire happened.
Copyright AP - Associated Press