Several school districts made the decision early to dismiss students early with a forecast of snow, the state Department of Motor Vehicles canceled all road skills tests after 1 p.m. for today and the NBC Connecticut meteorologists issued a First Alert for snow that is causing problems on the roads and will impact the evening commute as well.
UConn dismissed at 2 p.m. for the Storrs, greater Hartford, Waterbury and the School of Law campuses, while classes and operations at UConn's Stamford and Avery Point campuses remain on their regular schedule.
Non-essential employees were allowed to leave the Storrs, greater Hartford, Waterbury and the School of Law campuses at 2 p.m., but essential employees were directed to report as normal. Essential services, including public safety, residential dining halls and others will not be affected.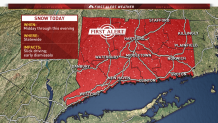 We're forecasting one to three inches of snow for the entire state. While it will not accumulate to much, there will be periods of heavier snow that could make things tricky on the roads, and the timing has led to some issues.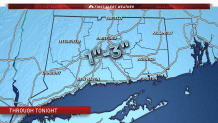 Deputy Police Chief Brian Foley, of the Hartford police department, said the early dismissals will lead to parents leaving early, which will help the commute later today.
"When parents are leaving early to go home and get their children -- most of the schools in the region do have early dismissal, so a lot of parents that would commute into Hartford will be heading home early so that will lighten our traffic pressure," he said.
In addition to schools dismissing early, the evening commute could also present an issue. Light to moderate snow will be falling statewide during the evening afternoon and evening commute home.
Winter weather advisories have been posted for the entire state and are in effect through the night.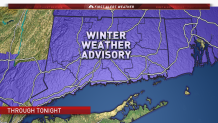 The widespread snow will come to an end by 10 p.m. with lingering snow showers continuing through the night.