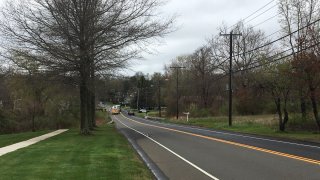 A bicyclist who collided with a truck in Middletown on Friday has died, according to police.
Police said 64-year-old Louis Petruzzello, of Middletown, was on a bike at the intersection of Randolph Road and Millbrook Road at 10:46 a.m. on Friday when he collided with a 2020 Freightliner Coronado flatbed triaxle truck operated by a Robert Devylder (42 years old) of Cheshire, CT was in a stopped position northbound on Millbrook Road at its intersection with Randolph Road.
Petruzzello sustained serious physical injuries and was treated at the scene by South Fire District and Hunter's Ambulance personnel.
He was then transported to Middlesex Hospital, where he later died, police said.
Police are investigating the crash and ask anyone with information to call Officer Botsacos at 860-638-4061.