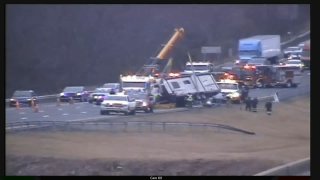 Interstate 84 East in Southington has reopened after a vehicle overturned, causing heavy delays in the area.
The eastbound side of the highway was closed, but traffic was able to get by on the shoulder. It's since fully reopened.
The rollover happened between exits 31 and 32 and it appears that a camper attached to a pickup overturned. Immediately following the rollover, congestion extended for more than two miles.
State police said minor injuries are reported.
Drivers were urged to take alternate routes while police worked to clear the scene.