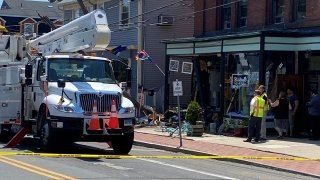 A vehicle crashed into a building on Main Street in East Hampton on Tuesday and part of the road is closed.
Firefighters said a vehicle hit the building housing Airline Cycles and the Little Fish Gallery around 11 a.m.
A pole and wires were also involved in the crash and a utility truck has responded.
Main Street is closed between the building and Barton Hill Road. It's expected to remain closed for several more hours.
There is no word on if anyone is injured.