A vehicle hit a dry cleaning business on Albany Avenue in West Hartford on Wednesday morning.
Police said they were called to the store, Dry Kleaning by McKleans, at 8:30 a.m. after a Honda Pilot hit the building and crashed through glass. No injuries are reported.
Officials from the West Hartford Building Department responded and inspected the building for structural issues.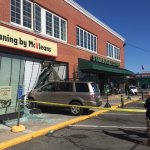 The West Hartford Police Department Traffic Division is investigating the cause of the crash.
Stories from NBCLX
LX, or Local X stands, for the exponential possibilities of storytelling in our communities.
No additional information was immediately available.