A large area of high pressure, dry air and calm winds resulted in the coldest morning of the season so far, as temperatures plunged into the teens and twenties across the state this morning.
Sunshine will dominate today and high temperatures will be close to 50-degrees.
There's more clouds mixed in tomorrow, especially of the middle- and high-level variety. Temperatures will rise into the lower-60s, so it will be about 10-degrees warmer than today.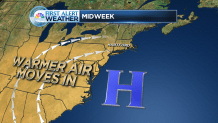 The only chance for showers over the next 7-days comes from a series of moisture-starved cold fronts.
The first is a backdoor cold front Wednesday, which stalls in central New England. A sprinkle can't be ruled out, especially on the northern border in town like Somers and Enfield. Temperatures will be in the lower- and middle-60s.
Another cold front approaches from the west on Thursday and it will bring the greatest chance for showers of the week. Still, not much rain is expected. Clouds will blend with sun as temperatures reach their highest point of the week in the upper-60s inland.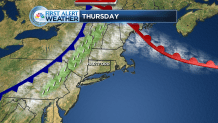 Mostly sunny weather returns Friday but it will be noticeably cooler. Hill towns will be in the middle 50s while other areas rise into the upper-50s.
The weekend looks mainly dry at this point, though a third cold front likely moves through on Sunday. A few showers are possible. Weekend high temperatures will be seasonable, close to 60-degrees.