NBC Connecticut Meteorologists continue to track an out of season Nor'easter.
The latest track has the center of the low staying hundreds of miles off of the Connecticut shoreline.
The storm will still usher in scattered showers to southern Connecticut tomorrow morning. The greatest chance for rain showers is areas of southern New London county.
Take a look at First Alert Future Radar at 7 a.m. Saturday. You can see periods of rain along the shoreline and mostly cloudy skies throughout the rest of the state.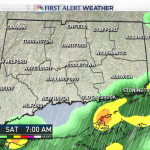 In addition to the scattered showers the winds will be quite gusty. Winds will pick up overnight with gusts from 20 to 30 mph tomorrow morning through the afternoon hours.
The clouds will begin to break by the afternoon as the storm continues to progress east. Looks for mostly sunny skies by Saturday afternoon and evening.
The weather will be quite pleasant for Sunday with partly cloudy skies and temperatures in the low to middle 80s.