Saturday looks beautiful, but Sunday will bring clouds, rain and cooler temperatures.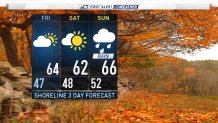 This is likely the last weekend for peak fall foliage across most of the state, so that might help you plan your Saturday. Get tips for places to take in the foliage here.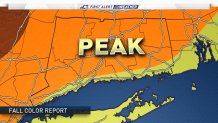 Bright fall colors will linger along the shoreline a bit longer where they haven't hit peak quite yet.
Things to Do Saturday:
West Hartford Halloween Stroll: 10:30 a.m. to 12:30 p.m. in West Hartford Center. Note: Isham Road, from Memorial to New Street, will be closed during the event as will the Raymond Road parking lot.
Bristol Fall Festival: 10 a.m. to 1 p.m. at the Imagine Nation Museum.
Candy and wine pairing at Sunset Meadow Vineyard in Goshen, from 11 a.m. to 1:30 p.m.
Things to Do Sunday:
Best Buddies Friendship Walk, 10 a.m. to 2 p.m. at Quinnipiac University, rain or shine! If it rains it will move inside to the parking garage.
Yard Goats Trick-or-treat, also rain or shine, 1 p.m. to 3 p.m. at Dunkin Donuts Park in Hartford.
The Patriots take on the Cleveland Browns at 4:25p.m. in Foxboro on Sunday. Not a great day for the game!