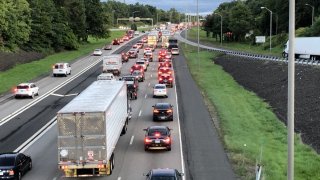 Two people were killed in a wrong-way crash that closed Interstate 91 North in Windsor for more than six hours Friday morning.
State police say a car was driving south in the northbound lanes of I-91 when it crashed head-on into another vehicle just south of Exit 38.
The crash happened around 12:30 a.m.
The vehicle traveling in the wrong direction on I-91 slammed into a vehicle driving in the center lane, according to state police.
The two people who died were in the vehicle that was driving in the wrong direction, police said.
The driver of the other car was taken to the hospital to be treated for minor injuries.
The highway reopened around 7 a.m.