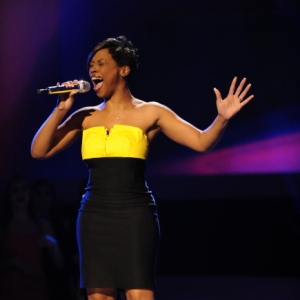 "American Idol" picked up three new members of their Top 12 and eight contenders for the Wild Card round on Wednesday evening.
Lil Rounds, who wowed the judges with her rendition of Mary J. Blige's "Be Without You" earlier in the week, was the first to be given the good news on Wednesday, from show host Ryan Seacrest.
VIEW THE PHOTOS: The Latest Star Sightings
"Oh my god! Thank you God," Lil Rounds said upon hearing the news, and pointing her fingers at the sky in a move of thanks. "I am now in the Top 12. Oh god! Thank you, thank you. I'm so lucky."
And Scott MacIntyre, the show's first legally blind contestant, also sailed through, offering his praise for the fans who voted.
VIEW THE PHOTOS: 'American Idol' Top 36 Semi-Finalists
"It feels like a dream come true," the 23 year-old-said. "I'm going to seriously never take it for granted. Thank you guys so much."
Jorge Nunez was the third contender to get the go ahead, and like he did on Tuesday when the judges praised his rendition of Elton John's "Don't Let The Sun Go Down On Me," he offered his thanks in Spanish.
"Like we say in Puerto Rico, muchas gracias," he said.
VIEW THE PHOTOS: Former 'American Idols'
But before the episode was over, the judges brought back everyone who had previously been rejected and selected eight out of the remaining group to return for Thursday's Wild Card round.
And the contenders brought back?
Von Smith, 22, Kansas City, Mo.
Jasmine Murray, 16, Starkville, Miss.
Ricky Braddy, 26, Nashville, Tenn.
Megan Corkrey, 22, Sandy, UT
Tatiana Del Toro, 24, San Juan, Puerto Rico
Matt Giraud, 23, Kalamazoo, Mich.
Jesse Langseth, 25, Minneapolis, Minn.
Anoop Desai, 21, Chapel Hill, N.C.
Related Content from AccessHollywood.com:
PLAY IT NOW: Access Search Engine: Latest Three Top 12 'Idol' Finalist (March 2, 2009)
PLAY IT NOW: The 'American Idol Experience': Ryan Seacrest & Paula Abdul

MORE ACCESS ON THESE TOPICS: American Idol - Ryan Seacrest - Reality TV - TV One - TV

Copyright NBCAH - Access Hollywood