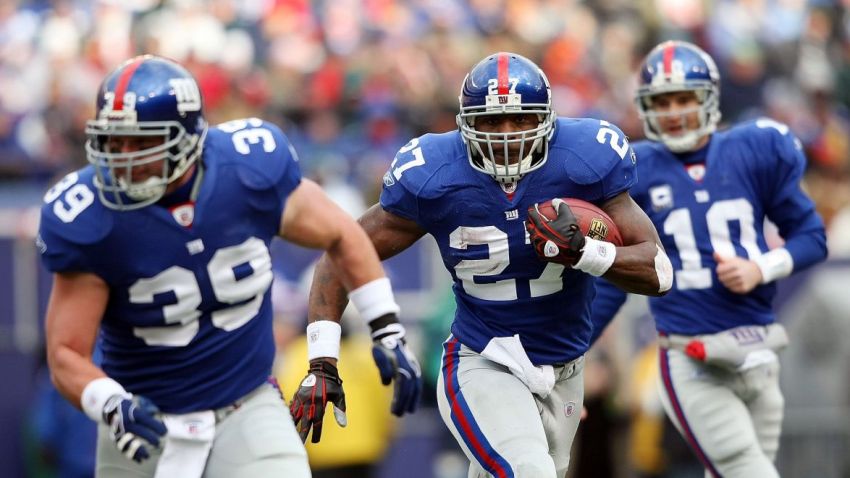 Brandon Jacobs returned to the practice field on Wednesday, making it quite likely that he'll be back bruising bodies during Sunday night's winner-takes-all battle with the Panthers. That's good for the Giants. For all the talk of the three-headed backfield, Jacobs is the engine that makes the whole thing go. For lack of a better analogy, Derrick Ward and Ahmad Bradshaw are the cup-holders and racing stripes that upgrade an old beater into a luxury vehicle.
That wasn't the only piece of good news for the Giants ground game. Maake Kemoeatu, the 345-pound behemoth who dominates the center of the Carolina line, has been out of practice and on crutches all week. The Panthers have other good defensive tackles, but none of them carries the bulk that Kemoeatu does, which should make a big difference in the amount of space that Jacobs and his acolytes have on Sunday.
Completing a trifecta of positive news was word that offensive linemen Kareem McKenzie and Rich Seubert, both injured last week in Dallas, participated in practice. The combination of a full-strength Giants line and a depleted Panther front makes clear the best route to a Big Blue January run at the Meadowlands.
Run the damn ball.
Even without Kemoeatu, the Panthers will load up against the run, especially with the chance that a December night will bring winds that affect the passing game. Doesn't matter. The Giants have to establish their ability to run against any line, because their big-play passing game disappeared the second a bullet kissed Plaxico Burress' thigh. Winning games from this point forward will be about outslugging and outlasting the opposition, two things the Giants can't do without a power running game.
Copyright FREEL - NBC Local Media