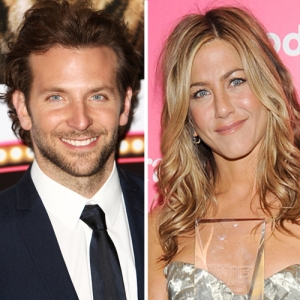 Bradley Cooper is putting romance rumors with Jennifer Aniston to rest.
As previously reported on AccessHollywood.com, "The Hangover" star had a late-night dinner with Jennifer on June 18 that went past midnight, but Bradley told reporters in Paris on Friday that the two don't have a love connection.
VIEW THE PHOTOS: First Look: Jennifer Aniston In 'Love Happens'
U.S. & World
"She's a friend of mine. Simply, simply, just a friend," he said, according to People.
Bradley was in France at the request of Louis Vuitton, which invited him to a menswear event.
VIEW THE PHOTOS: Bradley Cooper
"In America, it's not like it is here," he added. "She's someone who is super, super known. Famous. If someone says 'hello' to her, it's given that he's fallen in love with her. So, no, no. She's a very, very interesting woman, but she's simply a friend."
And of the romance rumors, he joked that he wasn't the one behind them.
"Who talked about it?" he said. "It wasn't me. It was someone else."
VIEW THE PHOTOS: Jennifer Aniston: From TV 'Friend' To Box Office Superstar
Though Bradley starred with Jennifer in "He's Just Not That Into You," he noted that they didn't have much time together on the set.
"My part was solely with Scarlett Johansson and Jennifer Connelly. Which isn't bad at all," he said.
He'll rub shoulders with more of Hollywood's hottest leading ladies in another romantic comedy, "Valentine's Day," an ensemble picture that's set to star Jennifer Garner, Julia Roberts, Anne Hathaway, Jessica Biel and Jessica Alba, as well as Ashton Kutcher.
The film begins production this fall.
Related Content from AccessHollywood.com:
PLAY IT NOW: Jennifer Aniston Honored At 2009 Women In Film Awards
PLAY IT NOW: Bradley Cooper Talks 'The Hangover'

MORE ACCESS ON THESE TOPICS: Bradley Cooper - Jennifer Aniston - Rumors - Movies - Celebrities

Copyright NBCAH - Access Hollywood