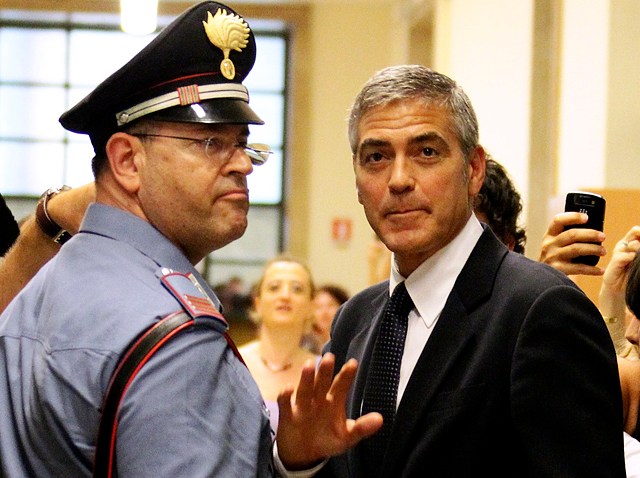 Even in court, George Clooney brought an aura of cool to the proceedings.
That is how the The Associated Press reported it when the actor was in an Italian courthouse Friday to testify against three defendants accused of using his name to launch a fashion line.
Clooney, 49, was described as wearing a navy blue suit, white shirt and tie. His appearance drew crowds to the small courthouse where the judge requested them to be quiet.
In his testimony, Clooney, who addressed the court through an interpreter, said that photographs that showed him with two of the defendants were doctored, and that signatures on the documents were forged.
He said the case stems from four years ago when watch company Rolex sent him a letter to publicly stop wearing one of their watches. Clooney, a spokesperson for Omega, surmised that someone was using his likeness to market Rolex. What prompted him to take action was when he came across articles that said he had a clothing line in Italy, which he said was false.
In motioning to Vincenzo Cannalire, the only defendant present at the trial whom Clooney recognized as the person in the photos, the actor remarked: "This is the first time I've ever seen him." Then he added: "So I'd like to say hello, nice to meet you."
The two other people charged with fraud are Vanja Goffi and Francesco Galdelli. Clooney said that a photo that allegedly showed him with Goffi was actually doctored from a photo of the actor and a former girlfriend. He said he heard of Goffi from stories on the Internet that allege the two were involved romantically.
"I've never met her. I've never seen her," said Clooney, who also commented that signatures on documents were either forged or photocopied.
During the proceedings, a judge blocked defense lawyers in their attempt to pry into Clooney's personal life. The actor has a villa in Italy's Lake Como
After his testimony, Clooney told reporters: "It seems the justice system is the only way to deal with it."
The actor has a new movie, "The American," due for release Sept. 1, according to IMDB.