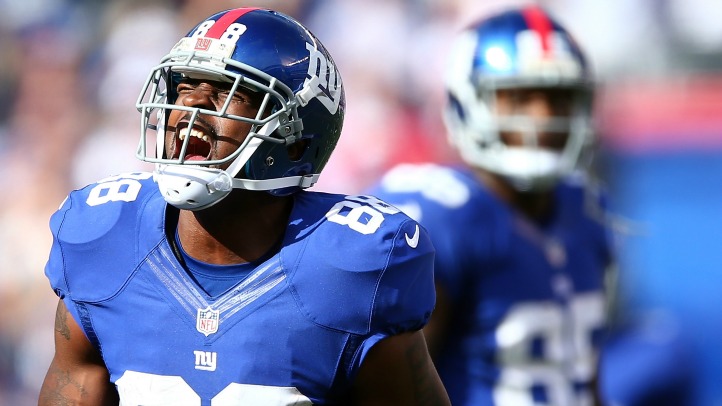 The biggest downside of a short week is that players don't have time to recover from any nicks they might have picked up on Sunday.
Such is the Giants' problem heading into Thursday night's game against the Panthers. The team announced Wednesday that wide receiver Hakeem Nicks, running back Ahmad Bradshaw, right tackle David Diehl and wide receiver Domenik Hixon will all miss the game because of injuries they picked up during the victory over the Buccaneers.
Such things cause Tom Coughlin to say "Next Man Up" while explaining that injuries are unfortunate but that it just means someone else has to step up and do the job. He's saying that because he's said it often enough that it will wind up on his tombstone -- and also because it's true.
The Giants are going to have a hard time finding a next man to replace Nicks, though. He's coming off a 10-catch, 199-yard performance that was as good as any a Giants receiver has ever put together and he looked totally dominant from the first minute until the final whistle.
The idea that the Giants can just replace him and move along is ludicrous. It doesn't mean the Giants need not bother showing up for the game, but it does mean that the offense will have a hard time coming back again this week if needed.
Andre Brown looked good against Tampa and David Wilson needs more time on the field if he's going to get over the skittishness he showed in each of his first two professional games. Bradshaw needs a running mate in the backfield because his body's never been up to the task of a 16-game season and the team would really benefit if someone else picked up where Brandon Jacobs left off.
It's unkind to say that losing Diehl might wind up being addition by subtraction, so we'll just say that the offense in general and offensive line in particular looked better in the Bucs game after Diehl was injured. It's been several years since Diehl was a consistent force for good on the offensive line and the team could really stand to know if Will Beatty is any kind of answer at tackle moving forward.
Hixon's been a useful player during his healthy moments with the Giants, but he's also a player whose assets and liabilities are well known to the team by this point. Ramses Barden and/or Rueben Randle can use the increased playing time to show whether their own balance sheet makes them a better playing time investment as the rest of the season unfolds.
No one can even dream of giving the Giants the same kind of play that Nicks gives them, however, and the fear now has to be how long Nicks' foot injury is going to be a lingering issue that threatens to keep him out every week. The other guys might be able to replace the impact lost elsewhere in the lineup, but Thursday night's going to be a lot tougher than it looked when you woke up on Wednesday.
Josh Alper is also a writer for Pro Football Talk. You can follow him on Twitter.
Copyright FREEL - NBC Local Media