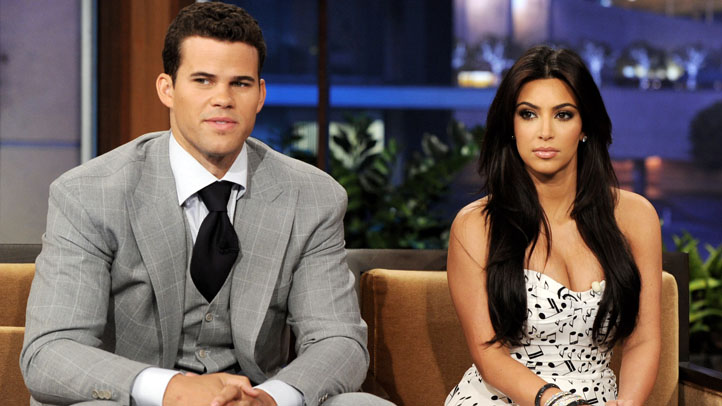 Kris Humphries is still in as much of a rush as ever. Meaning, no rush at all.
The NBA player's lawyer has filed a motion to put the brakes on Kim Kardashian's request to set an immediate trial date to get their divorce finalized. Humphries' camp claims that the E! star is trying to gain an unfair advantage by trying to speed things along despite various delays in the discovery process.
"What are they hiding?" attorney Marshall Waller states in the filing obtained by E! News. "What is there in the raw footage of this televised courtship, 72-day marriage and resultant breakup that they are so afraid of us discovering?"
Kim's attorney maintains that her client is "handcuffed" to Kris Humphries
Marshall further claims, "What is really going on here is that an 'urgency' in the form of an apparently unplanned pregnancy, something the Respondent had nothing to do with, is perceived by Plaintiff as an opportunity to gain a litigation advantage by trying to force this court to prematurely set this matter for trial."
Humphries maintains in the court filing that he has the right to be present when Kardashian is deposed, but that, due to his game schedule, he's not available till mid-May or June.
Quizzed last month by David Letterman about why it was taking so long to get divorced, Kardashian insisted that she was trying.
Khloe Kardashian Odom says Kris is acting "gross" about finalizing divorce
"I can't speak for Kris, but I just want him to be happy and I want us to move on, and that's really what I want, is just to move on," the mom-to-be said, explaining that Humphries has been angling for an annulment rather than a divorce.
"The only legal way to get an annulment is if fraud were involved, so that's what's tricky," Kardashian said. "So he is suing me for an annulment based on the fact that I frauded him into marrying him for publicity." But, she added, no fraud occurred.
Kim filed for divorce from Kris on Oct. 31, 2011, 72 days after they tied the knot.
Humphries' attorney wrote in his filing that he told the court that they would be ready for trial with discovery completed by the end of 2012 "IF (and only if) everybody was cooperative. As of this dictation, everybody is most definitely NOT cooperative, which means we are probably going to have to obtain court orders and go through that process to get access to all of this information, and until that happens we are NOT ready to go to trial."
A hearing regarding each side's readiness to go to trial is set for Feb. 15 at 8:30 a.m.
--Reporting by Claudia Rosenbaum
See Kim enjoying better days on Kourtney and Kim Take Miami, Sundays at 9 p.m. on E!
Copyright E! Online