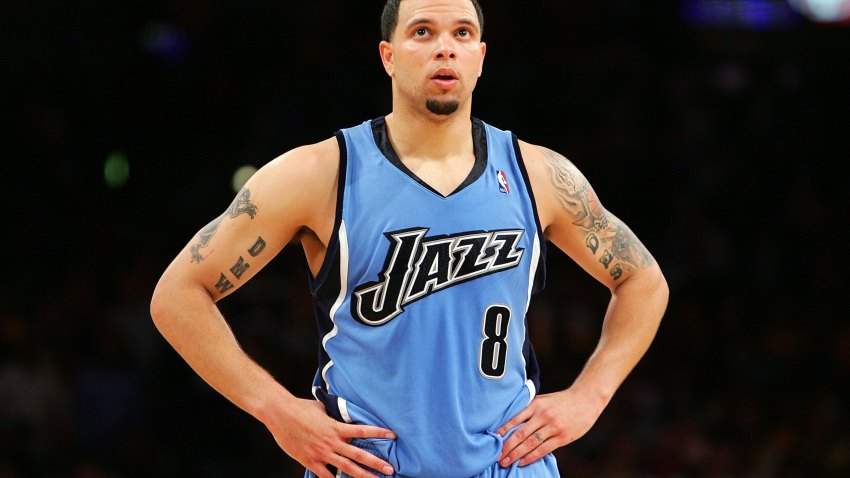 Deron Williams had 25 points and nine assists to lead the Utah Jazz past the Toronto Raptors 109-101 on Sunday for their 11th straight win.

Mehmet Okur had 19 points and 11 rebounds, Kyle Korver matched a season-high with 20 points. Paul Millsap had 18 points and 11 rebounds, and Andrei Kirilenko scored 18 for the Jazz, who have won eight straight games against Toronto.

Utah matched its longest winning streak since an 11-game run from April 1-18, 1999.

Chris Bosh had 30 points and 10 rebounds for the Raptors, with Andrea Bargnani scoring 20 and Jose Calderon adding 10 points and 11 assists. Anthony Parker scored 16 points, but Toronto still lost its fifth straight.



Magic 86, Celtics 79
At Boston, Dwight Howard scored 18 points with 15 rebounds, making a pair of free throws with 13.9 seconds as Orlando downed Boston.

With the win, Orlando moved two games behind Boston and three behind first-place Cleveland in the East.

Rashard Lewis scored 15 and Rafer Alston had 10 points and eight assists for Orlando, which won its fourth straight.

Ray Allen had 17 of his 32 points in the fourth quarter, scoring nine straight to make it 82-79 with 1:22 to play. But he hit the back of the rim on a 3-point attempt from the left side that would have tied it with 41 seconds to play.



Spurs 103, Suns 98
At San Antonio, Tony Parker notched his fourth 30-point performance in his last seven games as San Antonio sent Phoenix home winless from its four-game road trip.

Averaging 25.6 points since the All-Star break, Parker sealed San Antonio's third win this season over the slumping Suns with a one-handed runner with 26.2 seconds left.

Tim Duncan had 17 points and 15 rebounds against the Suns.

Going in the wrong direction is Phoenix, which fell four games behind Dallas for the final playoff spot in the West. Shaquille O'Neal was held to 14 points after averaging nearly 30 in his previous four games.



Nets 106, Knicks 101
At East Rutherford, New Jersey, Devin Harris had 35 points and 10 assists as New Jersey ended a frustrating stretch of close losses with a win over New York.

Vince Carter added 25 points for the Nets, who had lost three of their past four games, failing to pull out tight games against New Orleans, Boston and Orlando.

Harris and Bobby Simmons each added a pair of free throws in the final seconds after empty New York possessions.

David Lee had 19 points and 14 rebounds for the Knicks, who opened a five-game trip with their fifth loss in six games. Nate Robinson scored 17 points and fellow reserve Danilo Gallinari added 15.




Rockets 93, Grizzlies 83

At Houston, Yao Ming had 24 points, 17 rebounds and three blocks as Houston downed Memphis to extend its home-court winning streak to 12 games.

Luis Scola added 18 points and 14 rebounds for the Rockets, who got an easy victory heading into a tough week that includes games against Denver, the Los Angeles Lakers and San Antonio.

Rudy Gay scored 21 points and Marc Gasol added 18 for the Grizzlies, who've lost 10 of 11 and seven of their last eight road games. O.J. Mayo, the Grizzlies' leading scorer, had only 10 points on 4-for-13 shooting after scoring 32 in Memphis' 104-93 win over Houston on Feb. 4.



Thunder 89, 76ers 74
At Oklahoma City, Nenad Krstic scored 20 points and Malik Rose added a season-high 14 as Oklahoma City beat Philadelphia.

The Thunder surged ahead by outscoring Philadelphia 20-2 to start the second quarter, and the 76ers were never able to get within 10. Rose had eight of the Thunder's points in that stretch, while the 76ers went 1-for-9 from the field and committed six turnovers.

Andre Miller and Thaddeus Young led Philadelphia with 20 points apiece. Miller has scored at least 20 points in five straight games for the first time in his career.

Nick Collison added 12 points and 11 rebounds for Oklahoma City, which has won four of five games without Kevin Durant (ankle) and three of four without Jeff Green (back).




Kings 114, Nuggets 106
At Sacramento, California, Kevin Martin had 26 points, seven rebounds and eight assists to lead Sacramento over Denver.

It was a rare evening of excitement at Arco Arena, where the Kings have lost repeatedly and own the third-worst home record in the NBA. Sacramento ran off eight straight points to start the game, led by 12 at the half and never trailed in winning its 10th home game.

Martin connected on five 3-pointers for the Kings, who tied a season high, making 14 3-pointers. Andres Nocioni had 23 points, Spencer Hawes contributed 20 points and eight rebounds, and Francisco Garcia had 19 points.

Carmelo Anthony scored 32 points for Denver.
Copyright AP - Associated Press