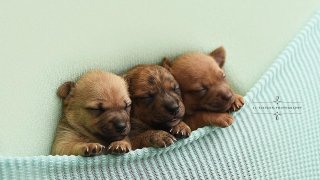 Kelly Frankenburg is a newborn and baby photographer who works out of her home studio 11 Sixteen Photography in Richmond, Virginia. She is also an animal lover.
She, her husband Mark and their two children recently started fostering animals from city shelter Richmond Animal Care and Control, People Pets reported.
The most recent critters to come under the Frankenburgs' foster care were a Chihuahua mom, Mama Paris, and her three roly-poly, 2-week-old babies — Tito, Messi and Love Bug.
After waiting a few days for the canine family to settle in, Frankenburg put together a few newborn shots, styling the session just like she does for human infants, and found that the pups took to modeling pretty quick.