Men from across North Texas in search of sex workers are mistakenly traveling to a quiet Plano neighborhood and knocking on the door of a retired woman.
It's been nonstop since it started happening last year, Elaine White said. The latest "John" came knocking just last week, and she's fed up.
Instead of basking in her retirement, the 66-year-old has been left with sleepless nights.
"How can a grown man go to a house in a neighborhood thinking they're gonna get sex?" she asked herself. "As many hookers and prostitutes there are, go get one. Leave me alone. I'm not here for that."
Apparently, her address is being used in an online scam targeting men seeking sex workers.
"Police told me that there are traffic rings going around and my address may have been used out of the sky," said White. "That it's off of some sex website where nasty old men go and look for sex. They pay Venmo for the services and then they get my address and they come here."
She has no idea how or why her East Plano home is being used online to lure men searching out sex workers.
"They say they're here for an appointment, for 'Nikki.' Some say, for 'Kelly,' some are for 'Nikki' and now it's 'Rhonda,'" she said.
White said about 25 men have shown up on her doorstep since last year, at all hours of the day, young and old, men of all ethnicities. Some are locals and some have traveled from as far away as Laredo, a more than seven-hour drive away.
She installed a Ring video doorbell camera hoping it would dissuade them. It has not.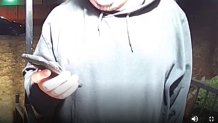 Fed up, she started to confront some of the men. White shared several video clips with NBC 5 showing man after man with the same story. After asking a young man who he's looking for, he responds "Rhonda" through the camera.
"For drugs or sex," she asked through the speaker in one of the recordings.
"Umm, second one," a man responded.
"Well, you know what? This is a bait house and you have 10 seconds to get away from it or the cops are gonna getcha. You better hurry," she warns as the man puts his hands up and leaves quickly.
White has filed police reports with Plano Police. She said officers arrive quickly but have not arrested any of the men.
She said several showed up with cases of beer.
She said at least two men have said they were sent by Thai Massage of North Dallas, a business and a phone number she later found out is fictitious.
What's worse, security signs aren't keeping the Johns away. Neither is a spray-painted sign she's resorted to posting outside her home reading: Kelly Does Not Live Here.
"Look at the sign on my front door. Get the **** off my front porch," she told one man.
Fed up, she is backing up a sign on her front door with one saying she's armed.
"Yes, I have my Smith & Wesson .357 Magnum loaded 4-inch barrel next to me and I answer the door with it," she said.