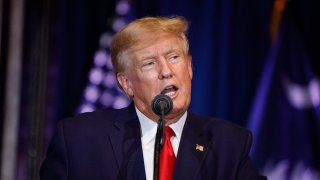 The special counsel investigating Donald Trump's handling of classified documents is seeking to compel a lawyer for the former president to testify before a grand jury, a source familiar with the matter told NBC News.
A sealed filing from prosecutors alleges they have evidence that some of Trump's conversations with the attorney were in furtherance of a crime, the source said.
In a sign of an aggressive new legal strategy, first reported by The New York Times, the source said special counsel Jack Smith has asked a judge to allow prosecutors to invoke what's known as the "crime fraud" exception, which would let them sidestep protections afforded to Trump lawyer Evan Corcoran through attorney-client privilege.
The source did not say what questions the government is trying to force Corcoran to answer.
Read more at NBCNews.com.