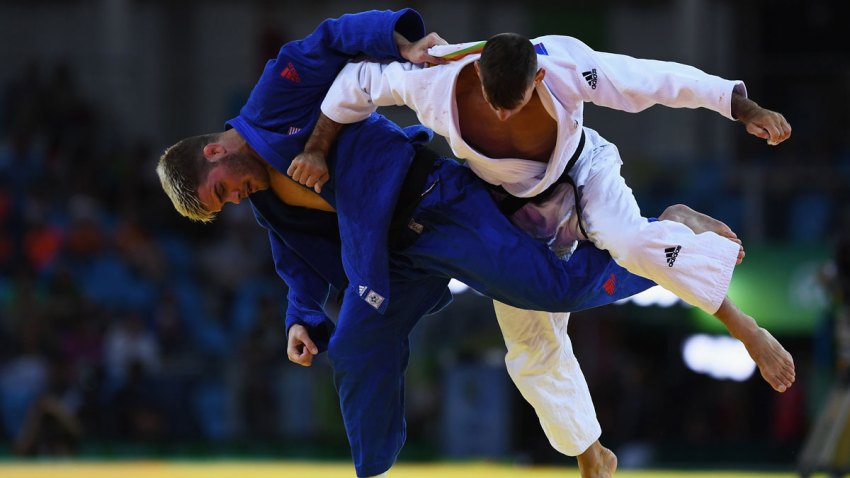 Nick Delpopolo's Olympics were erased from the record books in 2012 after he tested positive for marijuana. The judoka for Team USA hoped to erase the bad memories that fueled his run at redemption in Rio.
He did not medal, but came pretty close on Monday.
Delpopolo lost his quarterfinals match to Israel's Sagi Muki but the loss moved him to into the repechage, keeping his bronze medal hopes alive for a few more hours.
In a quick match, Hungary's Miklos Ungvari, the 2012 silver medalist, shattered those hopes. Delpopolo had two penalties to Ungvari's one.
In his first Rio match, Delpopolo defeated Nigeria's Ahmed Goumar, winning by submission with 0:25 left. He then won against Odbayar Ganbaatar of Mongolia.
On the women's side, Marti Malloy, the bronze medalist from the London Games lost to Lien Chen-Ling of Chinese Tapaei in her opening match and has been eliminated from competition.
Delpopolo was sent home from the London Olympics after tests came back positive for marijuana. He said he unknowingly ate a pot brownie (or "laced good" as he calls it) at a party with friends celebrating his Olympic berth.
"The first thing I want to pop up on Google is 'Delpopolo Olympic medalist,' not 'Delpopolo marijuana scandal.'"
The mistake cost the 27-year-old his sponsors, coaches and even led to public ridicule.
Delpopolo says upon returning to the United States, he was approached by a stranger at the gym.
"She said, 'you should be ashamed, you're representing your country out there and to go down like that!'"
Delpopolo says the vitriol didn't stop there.
"To have people calling my parents saying they raised a terrible kid, going after my sister and saying 'Your brother's a scumbag,' that hurt me."
At his lowest point, Delpopolo was embraced by a coach in Hialeah named Evelio Garcia at Budokan Judo Club.
"He didn't ask what happened or make all this noise, he just simply asked me, 'Are you ok?'" Delpopolo recalled. "That resonated with me. I needed someone to ask me if I was okay outside my immediate family."
So Delpopolo, his girlfriend and their their cats, moved from New Jersey to Miami - seeking another shot at the Olympics.
"I was living in an efficiency in Opa-locka. It was the only thing I could afford," Delpopolo said. "I was living behind some guy's house and I don't know what was going on in there."
Delpopolo said he didn't know much about the area until moving in. "But my girlfriend said, 'That's in a rap song, that place must be real.' We got there and I was like, 'Yeah, this place is real!'"
Delpopolo was born in war-torn Montenegro and lived in an orphanage until he was adopted as a toddler by a family in New Jersey. His path to the Olympics had already been a complicated one. So living in a rough neighborhood and sleeping on a mattress on the floor wasn't a big deal for him.
"That experience helped me get back here," he said.
After winning the Pan Am Games, Delpopolo was able to move to Davie, and then completed his mission to return to the Olympics.
"If I could win an Olympic medal here, that will define my legacy, as opposed to what happened."