Rob Jones never liked running. He didn't like running when he grew up on a farm in Lovettsville, Virginia, and he didn't like it by the time he graduated from Virginia Tech in 2007.
The 32-year old former Marine said he only ran to prepare for the test to join the United States Marine Corps.
All of that hasn't stopped Jones from embarking on an ambitious journey of running 31 marathons in 31 cities — in 31 days.
Running multiple marathons back-to-back is remarkable but not unprecedented. A couple in Australia reportedly ran a marathon every day in 2013 and a man ran 401 marathons in as many days to raise awareness about the effects of bullying.

But Jones is not only planning to run a combined 812.2 miles in a month. He is doing so without his legs.
After kicking off his first run in London on Thursday, he's set to visit Philadelphia, New York City, Boston, Chicago, San Francisco, Los Angeles, San Diego, Dallas and other cities in the coming days and weeks. His last run will be on Veterans Day in Washington, D.C.
Jones's life changed forever in 2010 when he was critically injured as part of a team of combat engineers, whose primary task was detecting IED's in a heavily Taliban-controlled area in Afghanistan. He came across a landmine that detonated and resulted in both of his legs being amputated.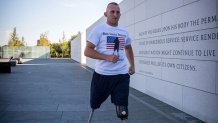 After hours of surgery and a year and a half of rehabilitation, Jones was ready to get back to his life, though he couldn't picture exactly where his recovery would take him.
"I wasn't sure exactly of the specifics," he said. "All I knew was that I was going to do everything I could to get back to being able to take care of my own, be self-sufficient."
After his accident, Jones rehabilitated at Walter Reed Army Medical Center, where he was fitted with prosthetics. He recalled having to learn to walk again, but this time with bionic knees.
"I also used the time to relearn how to do other things with my new challenge including riding a bicycle, running, and rowing," Jones wrote on his website.
Running a marathon wasn't something that Jones had on his mind, following his accident. He wanted to do more weightlifting or rowing, which he took a liking to.
After being honorably discharged from the military in 2011, he trained for the 2012 Summer Paralympic games in London, where he won a bronze medal for Team USA in mixed double sculls.
Despite being an Paralympic medalist, he wanted to do something for veterans. He set a goal to raise money for wounded veterans and thought that running successive marathons was a great start.
Jones said it was important to dispel the myth that all veterans are physically and mentally damaged.
"What I'm setting out to do here is to be an example for other veterans and millions alike," Jones said.
He is a veteran who went to war and is still in the fight, he said.
He started training a year and a half ago by doing running an hour a day, three to four times a week, until he got to a point where he was able to run five back-to-back marathons in as many days.
"There are plenty of people who have done similar stuff and run similar distances," Jones said. "It's about preparation."
Jones doesn't know anyone who has done this type of ultramarathon, but he's watched a lot of documentaries on people who have and said he is ready for the challenge.
While most marathoners run nonstop, Jones is taking a different approach once he starts on Oct. 12. He plans to pace himself while completing each leg of his run and could break up his run over the course of a day. He will monitor his distance by using fitness watches with GPS functionality.
Jones said he knows he couldn't do this alone and is relying on his family for support. His wife, Pam, helps get his story out to the public, and his mother, Carol Miller, will be her son's massage therapist.
"My wife is my number one supporter," he said.
He also is working on a way for fans to watch his amazing run online, whether through Facebook Live or other live streaming services.
Jones has also received support from his prosthetists, physical therapist and other runners who were inspired by his story, among them Mirna Valerio, a runner and author of the book, "A Beautiful Work in Progress."
"He's going to get up there and do it and challenge his body and spirit," Valerio said. "They're using their bodies and showing the world that despite what somebody might see as a challenge they're just doing it anyway."
Jones maintains close friendships with those he served with in Iraq and Afghanistan and knows they back him, even though they may be tired of his antics.
"I think they probably expect it at this point," he said jokingly. "They're not that impressed anymore."
He is glad for his continued relationship with the Marines.
"You know the saying in the Marine Corps is, 'Once a Marine, always a Marine," he said. "It remains to be a tight-knit brotherhood for me, and that is what the Marine Corps is all about."