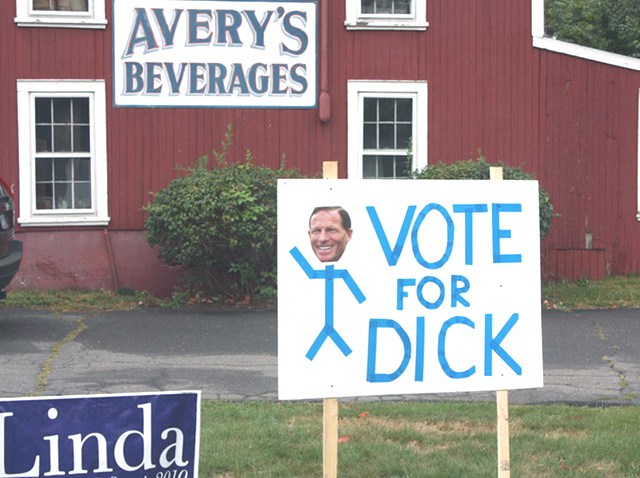 It's not often that you see homemade campaign signs in a U.S. Senate race, but one New Britain business says it's been forced to improvise.
Avery's Beverage owner Rob Metz entered the campaign sign business over the weekend because of an escalating Facebook war that's being waged over how customers perceive his politics, according to the Hartford Courant.
Republican Linda McMahon has signs on the front lawn of the landmark soda business. McMahon supporters left them when they visited Avery's for the kickoff of a soda "straw poll" pitting "Linda's SmackDown Soda" vs. Blumenthal's "Dick's Blue Menthol Soda."
Over the past few weeks, a fight has begun on Facebook, with Blumenthal supporters accusing Metz of partisan politics and demanding that Blumenthal signs also be displayed.
"We know what signs are on your lawn...how can we be sure who really wins....," one post said.
To which, Avery's Soda responded:
"We have repeatedly asked the Blumenthal folks to bring us some signs for our lawn, they have yet to do so! This straw poll is not very scientific but it is honest"
But, Avery's came up with a solution and created its own sign.
"We have not been able to get a Dick Blumenthal sign for our lawn and some folks are upset that we only have Linda's signs out there. We do not want to be partisan so we have added a sign of our own so that both candidates are represented. Hopefully we will get a real one soon to replace it with."
Blumenthal's press secretary Maura Downes told the Courant that Blumenthal's official signs are expected by week's end, that Avery's will receive one. The Democrat is also planning his own visit to the site of the soda "straw poll."