Five years after the Tsarnaev brothers' bombs killed three people and wounded hundreds of others at the Boston Marathon, the finish line on Boylston Street is up, yellow daffodils line the sidewalk, an unofficial memorial to the lives lost is in place, and spectators have flooded the city for its rite of spring.
"I've grown up around here and it's just like Christmas Day," said 30-year-old Stephanie Carpenter, who with colleagues from New Balance, the maker of running shoes and athletic gear, was carrying pots of the daffodils to place along the storefronts and on the tables of outdoor cafes on Friday. "It's such a come-together moment for the city."
For Bostonians, there was little doubt that the race would continue after Tamerlan and Dzhokhar Tsarnaev left two backpacks filled with explosives near the finish line in 2013, killing 8-year-old Martin Richard, Krystle Campbell, 29, and Lu Lingzi, 23. The world's oldest marathon, and one of the most prestigious, it dates to 1897, when 15 runners entered the race and 10 completed it. The city reacted to the attack with the slogan, "Boston Strong" and a determination to be undeterred.
Thomas Grilk, the CEO of the race's organizer, the Boston Athletic Association, said he was not sure that passion for the race ran more deeply since the bombings because it had been there for such a very long time. Spectators haul out hoses when the temperature hits 100 degrees, hold out slices of oranges and ice cubes, even bring runners into their homes when necessary, he said. Then there's the 'Scream Tunnel" just outside Wellesley College on Route 135 where the students have been cheering on runners from the first race and especially after the first women were officially admitted to the race in 1972.
"When you have a race that's been run over the same course since 1897, you have families that generation by generation have been going," Grilk said.
Today, Tamerlan Tsarnaev is dead, killed in a shoot-out with police, and his brother, Dzhokhar, was sentenced to death. On Monday, Patriots Day, 30,000 runners will start the course from Hopkinton, Massachusetts, to Boston's Back Bay, with some half a million people expected to be lining the course.
Sandy Carey, a 46-year-old fifth-grade teacher from Syracuse, New York, will be running for the "261 Fearless: charity, started by the first woman to run the Boston Marathon, albeit unofficially. Kathrine Switzer managed to enter in 1967 with her initials, K.V., and finished, although a race official famously but unsuccessfully tried to wrest her number from her.
The bombings made Carey want to run Boston, for the first time, even more than ever.
"I've always watched the Boston Marathon but after that it felt like something you had to do," she said.
She has competed in New York City's marathon three times, but "it's just a different vibe here," she said. "This is the granddaddy of them all."
Thirty-two-year-old Matt Newman, an academic researcher and soon to be admissions consultant, hopes to be at the starting line. He has injured himself, likely piriformis syndrome or spasms in his piriformis muscle in his buttocks.
"We're still holding out hope that my butt will cooperate," said Newman, who lives in Orange County, California, but is about to move to Boston.
He has run Boston twice before, finishing in 2 hours and 36 minutes in 2015 but dropping out halfway the next year because it was too hot. The year he did finish, he began to cry as neared the end of the race.
"And I wasn't crying because I was in pain but I was crying because it's incredible to be buoyed by all of these people screaming for you," he said.
Alison Batchelder, a 54-year-old stay-at-home mother of four who will be watching, said she had noticed differences since the bombing. People are more mindful and alert, as would be expected, she said.
"But it's still got that great energy," she said. "The city never lost its spark as a result. If anything they're more enthusiastic. It's sort of a 'They're not going to knock us down.'"
As this year's marathon weekend began, Tereska James was posing with her mother in front a Boston Marathon mural around the corner from the finish line. She will take a break from her job as a marketing executive to watch on Monday. Boston's determination to continue despite the attacks shows the hope that people have for the city and its unity in coming together for something that is wonderful, she said.
"It's amazing, just the amount of energy and excitement around the marathon and everything that goes with it," she said. "The ceremony. It's just infectious, so you want to be part of everything that's involved in it."
Thirty-five-year old Yilak Kebede, who was checking out the finish line, wondered if one of his countrymen from Ethiopia might win. The research fellow at Harvard University said he was struck by "the way the Bostonians respect the marathon."
"It's really nice, new to me," he said.
Meet the Students Who Started the 'Boston Strong' Movement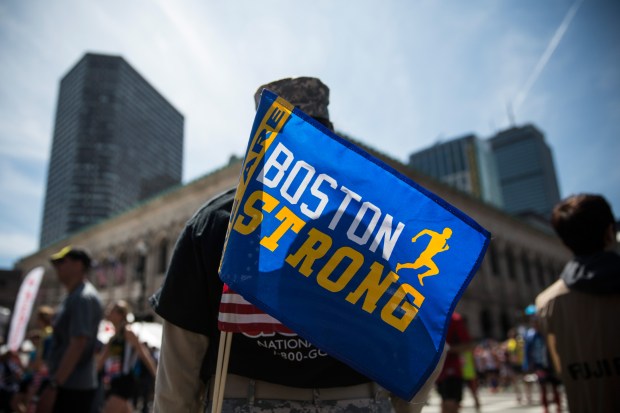 David O'Donnell, the senior manager of the Greater Boston Convention & Visitors Bureau, said he remembered the confusion immediately after the bombings as he and others struggled to understand what had happened and then the sounds of sirens.
"Police sirens, ambulance sirens, fire truck sirens, anywhere you were in the city, the background was just sirens," O'Donnell said.
He and his colleagues kept the Boston Common visitors center open as long as they could to help the 100,000 people in the city for the weekend. He said he felt numb, fearful that there would be other attacks, but also aware that he was an ambassador for the city. The city's endurance and resiliency was hardly a surprise given those are the very qualities that a marathon demands, he said. This year, Boston expects the race to bring in $200 million.
On Monday, O'Donnell will be at work about 200 yards from the end of the race, and at some point will stroll over to try to catch the first finishers coming through.
"We never worried that it would stop an annual world class event," he said.