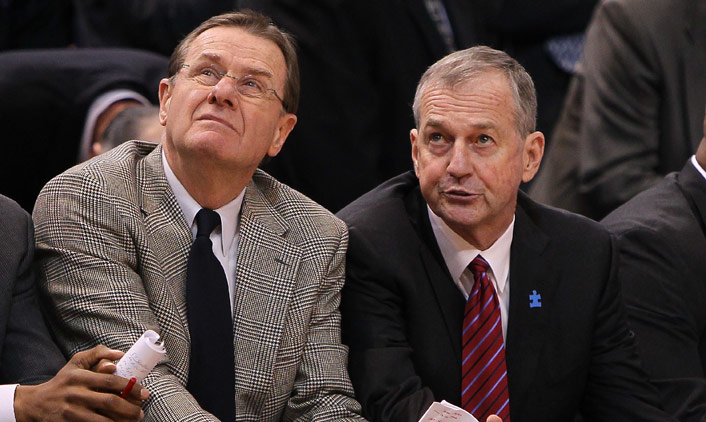 The fun starts Wednesday when the Huskies face the University of South Florida in the first Big East game of the 2011-12 season. UConn, the No. 9 team in the country, will be without coach Jim Calhoun for the first three conference contests as part of a NCAA-mandated suspension for recruiting violations. He'll return to the bench on January 7 against Rutgers, but in the meantime, longtime assistant George Blaney has been named interim coach (he's 7-8 in that role during his time in Storrs).

There are differences between the two men -- namely that Calhoun is much more animated than the reserved Blaney -- and the latter understands that it's no small task replacing a Hall of Fame coach.

"I don't think 'easy' is a good word," Blaney said according to the New Haven Register's David Borges. "You knew about it, the other ones kind of came more as a surprise or much quicker. We're just trying to keep things going the way Coach would like them to go."

As planned, Calhoun was at team practice on Christmas night.

"You just try to maintain what we do, and what we do well," Blaney said. "You try to really talk to the team about giving the kind of effort that he would demand of them. The more competitive we'll be, the more successful we'll be. It's never easy to try to simulate what Jim would do. I don't do some of things he does, he wouldn't some of the things I do. We just try to keep it in line with what we do in practice."

If there's a silver lining to all this it's that the Huskies' schedule isn't particularly grueling in Calhoun's absence. USF is 7-6 and St. John's is 6-5. Seton Hall has won 11 of 12 but has yet to face any real competition.

"I think South Florida's really good,"he said. "They have really excellent players, big big's that can score inside and pop out outside and shoot the ball well. They have a number of good, swing-type athletes, and I think they're vastly improved from last year."

In other Huskies-related news, freshman Andre Drummond was named Big East rookie of the week for the second consecutive week. He scored 16 points on 8 of 10 shooting against Fairfield, including nine rebounds, four steals and two blocks.

And sophomore guard Shabazz Napier, arguably the Huskies most important player, was named to the Big East Honor Roll for the second time in as many weeks. He tallied 24 points, six rebounds, five assists, and two steals versus Fairfield.