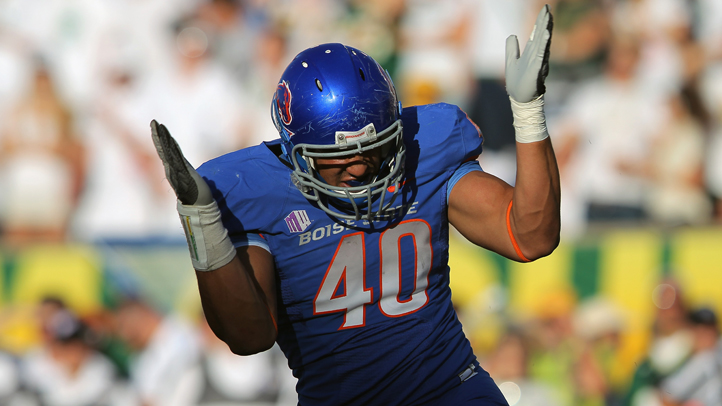 The uncertainty surrounding the Big East, its leadership and, most importantly, its future, remain up in the air months after Syracuse, Pitt and West Virginia announced they were leaving the conference and days following Big East commissioner John Marinatto's resignation.

Before Marinatto's departure, the conference added eight members, including football powerhouse Boise State. But according to CBSSports.com's Brett McMurphy, Boise State may be wavering on its commitment to join the Big East.

"An industry source told CBSSports.com that Mountain West representatives met with Boise State officials earlier this week to persuade the Broncos to remain in the MWC. Adding to that possibility is that the Broncos still haven't formally notified the Mountain West they are withdrawing from the league."

McMurphy notes that Boise State has until June 30 to notify the MWC its leaving, something the five other schools joining the Big East in 2013 have already done with their respective conferences. But because the Broncos have signed a contract with the Big East, it would cost them $5 million in exit fees if they don't join the conference before July 1, 2013. More via McMurphy:

"Sources told CBSSports.com that the Big East initially wanted Boise State to join the league in 2012 -- to replace West Virginia and guarantee an eighth football playing member -- but the Big East would not pay for the Broncos' $10 million exit fees to leave the Mountain West and move their Olympic sports to the Western Athletic Conference a year earlier than scheduled.

"Another reason Boise State couldn't join the Big East early was because the school would not formally withdraw from the MWC, sources told CBSSports.com."

It would be potentially devastating blow to the Big East, a conference already reeling from defections. Meanwhile, interim commissioner Joe Bailey confirmed Thursday that Boise State and San Diego State (both football-only Big East additions) are still committed to joining the conference.

"Well, my sense is that unless you hear differently, I think that there's full commitment from their standpoint," he said. "There's an expectation market and then there's the reality market. And the reality of it is that those schools have indicated, to my knowledge, to the executive committee and to the other members, that they have a big belief that the Big East is a really good partner for them."