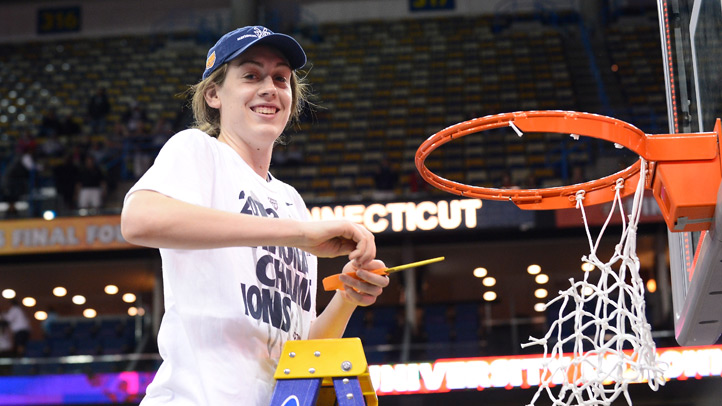 Things didn't go exactly as planned, but after a two-month period of self discovery during the middle of the season, freshman forward Breanna Stewart is -- to borrow insights from former NFL coach Denny Green -- exactly who we thought she was. And she didn't let Louisville (or Notre Dame before them) off the hook.

And now she heads into the offseason with expectations ratcheted up several notches above the already-otherworldly level that greeted her when she arrived on campus. It's just that now, with her confidence -- and game -- fully intact, Stewart seems fully capable of handling it.

"I just think I played really confident and stopped thinking," Stewart told ESPN's Rebecca Lobo after the game. "When I second-guess myself nothing good comes out of that."

UConn associate coach Chris Dailey said echoed those sentiments Tuesday night.

"Young players can sometimes get liked and respected confused," Dailey told SI.com's Richard Deitsch. "While everyone wants to be liked, when you are on the court you want to be respected for how hard you work and what you are willing to do for the team. I think she felt a responsibility to the older players and that's what bothered her the most. I don't think she cares what the media writes about her or what people say. I think she thought she was letting her team down."

And Geno Auriemma, whose coaching genius can sometimes be obscured by his courtside bluster, understands how far his star freshman has come.

"She's really, really innocent and in so many ways," he said. "She has a little kid's attitude towards everything that happens. She sees the fun and the joy in everything, and that's why I'm really thrilled for her because there were times this year where all that went away, and I was really worried about her. She got it back and she got it back just in time, and here we are."

"Got it back" might be an understatement; Stewart scorched Notre Dame for 29 points in the Final Four, and followed that up with a 23-point effort Tuesday, with 18 points coming in the first half. It was good enough to be named Most Outstanding Player honors, only the fourth time in NCAA history a freshman has won the honor.

"She has so much potential and to see her max it out at the right time was really fun," Maya Moore, one of the best players ever to come through UConn, told Deitsch. "I'm excited to see her add things to her game. She is pretty unique. She can do things on the perimeter and not look awkward. Her offensive competence was fun to watch."