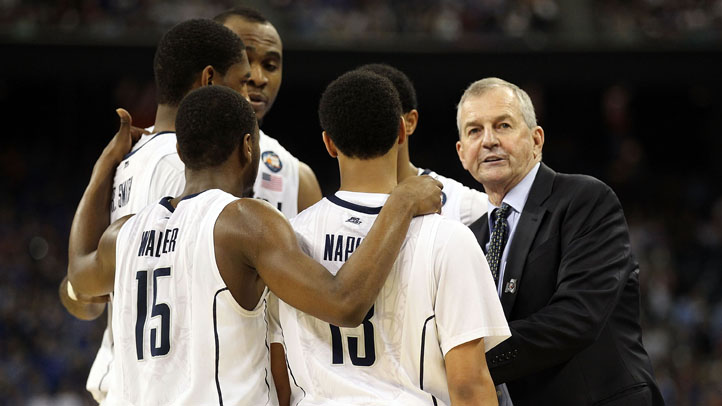 Today is the first day of the post-Kemba Walker era for the UConn men's basketball team. And while coach Jim Calhoun expressed happiness that one of the best players to ever come through his program is moving on the the NBA, he also realizes that the 2011-2012 version of the Huskies will have to find different ways to win.

"We're going to have to make a big adjustment without him, but we're not trying to replace Kemba Walker," Calhoun said at Walker's Tuesday press conference. "We'll be a different basketball team next year. I play that Don Quixote as well as I possibly can. I'm going to go out and find that windmill."

A big part of any success UConn has in defending its title will be because of Jeremy Lamb, the standout freshman who is already drawing comparisons to a Rip Hamilton/Ray Allen hybrid. Walker mentioned it during the news conference, but the Huskies are already in the gym preparing for next season because, well, that's what champions do. Not surprisingly, Calhoun has a plan for Lamb this summer, too.

"Jeremy right now has three weeks of class, then he's going to start his weight-training program, getting ready for the 19-U [USA] team," Calhoun said, according to the Hartford Courant. "That's what we've talked about. I've talked to him, his parents, everybody else involved. We're even trying to see about a three-and-a-half week summer session, get that out quick, so he can get ready for Colorado Springs and trying out for the 19-U team. That's what we've done."

Lamb won't be working alone next season to replace Walker; Shabazz Napier will assume the starting point guard job, and then there's incoming freshman, Illinois' Mr. Basketball, Ryan Boatright.

"There are some very talented young guys," Calhoun said. "When [Chicago-area guard] Ryan Boatright comes in — I'm talking about guards, now —- and Jeremy and Shabazz, they've had a pretty good road map [in Walker]. Jeremy understands. As much as I get on him to start playing defense, the No. 1 key to the Butler game was the blocked shot of [Shelvin] Mack by our defensive ace, Jeremy Lamb."

In what has become a weekly off season tradition, Calhoun was again asked about his future and he would just say, "I need to make sure the guy who is going to coach next year is going to be as enthusiastic as I was last year. If I don't feel I can do that, then I wouldn't coach. My job -- I haven't made a decision in any way -- is to get this team as ready as it possibly can to be the best team possible."

To recap: even though Calhoun has twice said that he will indeed return to coach the Huskies next season, he still hasn't "made a decision in any way."

In the meantime, the Huskies are back to work. Because there is no rest for the weary, even national champs.