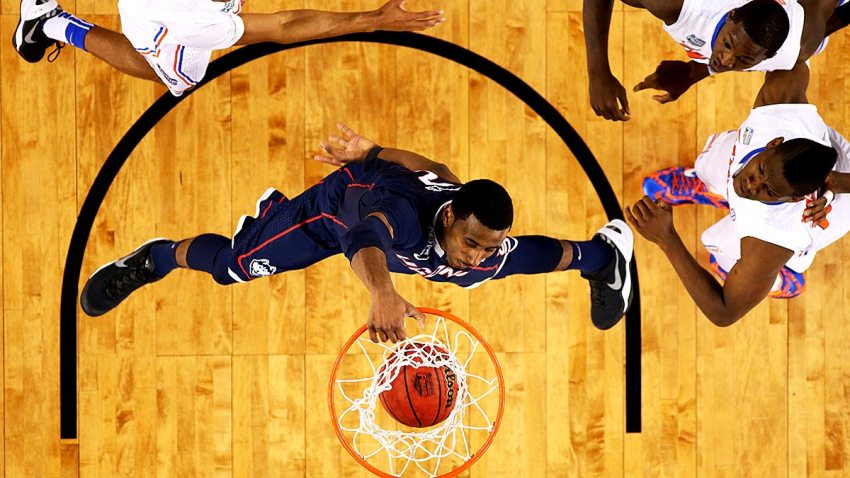 Any conversation about the 2013-14 Huskies starts with all-everything senior point guard Shabazz Napier, and for good reason: He's the pulse of this team, the unquestioned floor general who shows up big in the game's biggest moments.

No one knew this better than the top-ranked Gators who, four months ago, found themselves on the business end of a Napier buzzer-beating game-winner in Gampel Pavilion. On Saturday, the two teams met again, this time at the Final Four in front of more than 70,000 fans, most of whom figured there was no way the Huskies had a chance against one of the nation's most athletic teams.

Since running into the Napier buzz saw back in December, Florida had reeled off 30 straight wins, and coach Billy Donovan was not going to let the point guard determine the outcome of this game. What Donovan couldn't account for, however, was junior forward DeAndre Daniels, whose 20-point, 10-rebound performance jump-started a lethargic Huskies offense early and propelled them to victory down the stretch.

"I just wanted to step up big time," Daniels said on the court moments after UConn beat Florida, 63-53. "I talked to coach Jim Calhoun yesterday and he was like, 'Man, nobody's talking about you.' And I said, 'Don't worry about, everybody's gonna be talking about me after Saturday.' ...Everybody's always focused on our two guards penetrating and I stepped up huge tonight.
"We wanted to come out here and prove everybody wrong," Daniels added, "because nobody gave us a shot to win this game."

But the Huskies have perfected this "Us against the world" mentality. In fact, second-year coach Kevin Ollie seems to welcome it.

"Everybody was at a Level 5 and that was the most important thing," Ollie said after the win. "Whoever I put in the game was positive and they were productive ... and everybody had 10 toes in. I told you, they're fighters. So (even) if we get down, we keep fighting, keep believing in each other. DeAndre was huge for us, he stepped up and rebounded, it's all about touches with him. When he plays with energy like this, he's unstoppable."

That last point can't be stressed enough.

Daniels hung 27 on Iowa St. in the Sweet 16, playing the game of his life in the process. But throughout his career, and at times this season, Daniels has disappeared for long stretches, looking less like a legit NBA lottery pick and more like a part-time player still trying to find his niche.

On Saturday, Daniels was just about unstoppable. After the Huskies came out flat, trailing 7-0 to start the game, Daniels made the team's first basket. Then down 16-4 midway through the first half, Daniels sandwiched two 3-pointers around a Ryan Boatright 3 and a Terrence Samuel driving layup to get the Huskies to within a point, 16-15. Up till that point, it looked like Florida was going to run them out of the building.

But this is why games are 40 minutes and not 13. Put another way: After trailing 16-4 early, the Huskies outscored the Gators by 22 points the rest of the way.
The good news is that the same Daniels we saw last weekend, took the floor Saturday night in Arlington, Tex., and proceeded to have his way with the Gators. The bad news is that if he keeps this up Monday night, he may removed any remaining doubt that he's NBA-ready.

Still, we have yet to meet the fan who wouldn't happily trade Daniels' last year of college eligibility for a fourth national title. But let's not get to far ahead of ourselves...

"This is not a fluke," CBS Sports color commentator Greg Anthony said as time expired. "UConn is the better team."

By that point, there was no doubt. But in the previous six days you'd be hard-pressed to find someone outside of Storrs who felt like the Huskies had any shot to pull this off. In fact, on Friday, CBSSports.com's Gregg Doyel told senior guard Niels Giffey that UConn's Dec. 2 win over Florida was a fluke, to which Giffey responded: "Doesn't matter if it was a fluke or not. We got that win. We can have a fluke tomorrow, too, and go to the national championship game -- and nobody will talk about whether it was a fluke or not."

To echo Anthony: That wasn't a fluke (and to be fair, Doyel conceded as much before the Huskies had finished off the Gators Saturday). Not that it would matter. As Giffey astutely noted, a win's a win and the Huskies are headed back to the championship game, where they're 2-0 in the state of Texas.
Plus, it just means more ammunition for Ollie when he fires up his "nobody respects us" pep talk. Because, really, that's all UConn needs: More motivation.