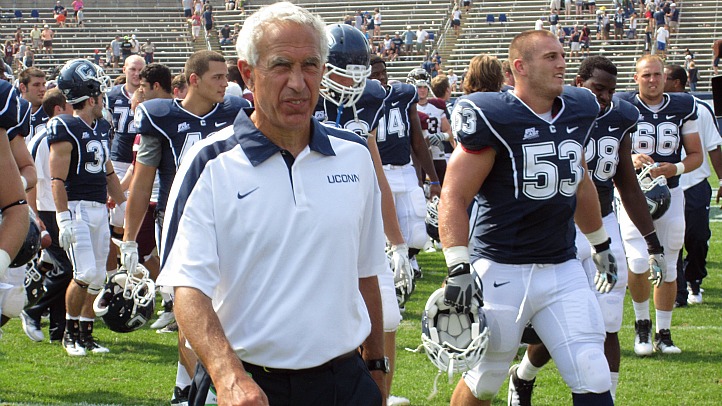 Taking the wide-angle view, there's not much to like about the way the UConn finished against Vanderbilt Saturday night. What should have been a good win against an SEC team turned into a gift for a Vandy club happy to take it.

And while the offense's inability to sustain a drive, particularly through the air, was frustrating to watch, the Huskies' defense played like, well, we expected them to, and almost won the game single-handedly. A late Johnny McEntee pick-six thwarted those plans, but if nothing else, it's proof of what we already knew: this Huskies team will go as far as the defense takes them because the quarterback situation has yet to be decided.

Freshman Yawin Smallwood had a 64-yard fumble return for a touchdown that gave the Huskies a second half lead, and he was also in on five other tackles.

"A year ago, [he] had [shoulder] surgery, really missed all the learning curve as a college linebacker; goes through and we kind of throw him in there in the spring. I didn't think he'd even be close to where he is right now," Huskies defensive coordinator Don Brown told the Hartford Courant last week. "He's functional. His motor has picked up. He's learning how to play fast. That's the one trait he's had going for him since fall practice that he didn't show in spring: he turns on it and goes fast."

Then there was junior defensive end Teddy Jennings, playing for Jesse Joseph, one of the best pass rushers in the Big East. All Jennings has done in two games is rack up eight tackles against Fordham in Week 1 and add 1.5 sacks in the Vandy game Saturday night.

Linebacker Sio Moore also played well in Nashville registering eight tackles and 3.5 sacks, including the one that led to a Smallwood's fumble-recovery touchdown.

"Moore, we still haven't unleashed him, but what you did see is a guy that's 240 pounds that cover as well as any safety in college football," Brown told the Courant. "That's kind of freakish."

Yes, yes it is. And the Huskies are going to need it while the offense works out the kinks.