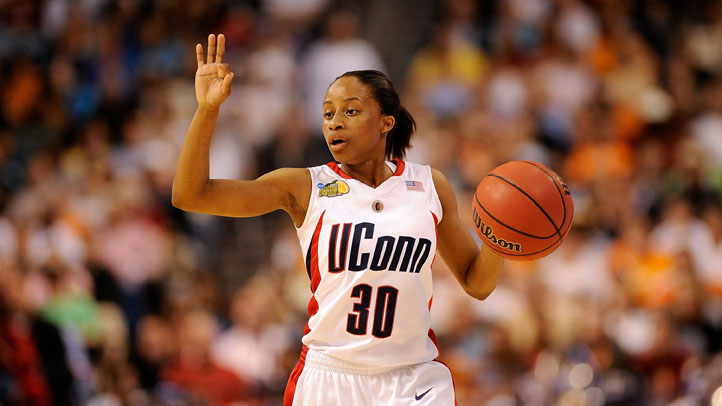 We've written recently about Kendall Reyes and Kashif Moore, former UConn football players now in the NFL, as well as Tiffany Hayes, the Huskies guard now playing in the WNBA. But there are also those on the fringes of professional sports just trying to make a roster.

Former Huskies sixth man Lorin Dixon is one such person. On Monday, she was released by the WNBA's Tulsa Shock.

"She did a really nice job for us," Tulsa head coach Gary Kloppenburg said according to the Hartford Courant's John Altavilla. "We brought her to camp because Temeka Johnson was late coming back from Europe, but we actually kept her with us four or five days after [Johnson] arrived. We saw her play at the WNBA free agent camp in Denver and she did a tremendous job for us. I really liked her energy. She battled and defensively she was as good as any of the point guards we had. She got better as camp went on and this will help her land herself a spot in Europe [in the winter]. She did what we asked her to do, come in, compete, work hard and that's what she did. My hat is off to her."

Kloppenburg's description sounds a lot like the Dixon we remember during her days at UConn.

In other UConn women's basketball news, the twin brother of point guard Caroline Doty, Kevin, tried out with the New York Giants over the weekend. Doty, listed as a tight end/H-back at Lafayette, was a 2010 All-Patriot League second-teamer. Of course, everybody looking for a spot on an NFL roster has an impressive resume and unfortunately for Doty, he wasn't offered a contract. Doty was trying to make it as a long snapper, a thankless job that is also one of the game's most important.