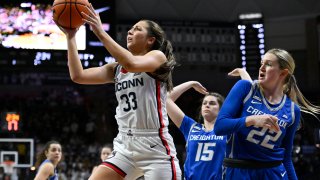 Caroline Ducharme scored all 10 of her points in the fourth quarter, including the winning free throws with just under five seconds left, and No. 6 Connecticut came from behind to beat Creighton 62-60 on Wednesday night.
Ducharme, playing for the first time after missing 13 games with a concussion, was 0 for 6 from the floor before her late scoring surge helped UConn (23-4, 15-1 Big East) overcome an 11-point fourth-quarter deficit.
Lou Lopez Senechal scored 17 points to lead the Huskies, and Aaliyah Edwards added 12.
Morgan Maly had 15 points for Creighton (18-7, 12-5). Rachael Saunders and Lauren Jensen each had 13.
Creighton trailed by two points at the half, but opened the second half with 3-pointers from Maly and Saunders — part of a 19-1 run that stretched back into the first half.
The Bluejays held UConn without a point for the first five minutes of the third quarter, turning a 30-21 deficit into a 40-31 lead. Creighton led 48-39 after three quarters.
Saunders' 3-pointer in the fourth quarter made it 50-39 before the Huskies began chipping away.
A three-point play by Ducharme drew the fifth foul on Saunders and cut UConn's deficit to 57-54.
Edwards made a layup to make it 57-56, and Lopez Senechal's layup gave the Huskies a 58-57 lead. But Morgan Maly responded with a 3-pointer to put Creighton back up with 1:07 left in the game.
Lopez Senechal responded with a jumper to tie it at 60, then drew an offensive foul on Maly off the ball with 16 seconds remaining.
Ducharme drove into the lane with 4.8 seconds left, drawing a foul on Carly Bachelor and calmly hit two foul shots to give UConn the 62-60 lead.
Edwards fouled Lauren Jensen on a drive with 0.7 seconds left. But the junior guard missed both foul shots, the second intentionally, and Edwards grabbed the rebound to secure the win.
UConn won the teams' first meeting this season in December 72-47.
BIG PICTURE
Creighton: The Bluejays fell to 11-3 on the road, matching the most road wins in coach Jim Flanery's 21 seasons at the school. The Bluejays hit 12 of 33 3-point attempts after shooting just three of 28 in the loss in December.
UConn: The Huskies had nine players available for the first time since Dec. 21. Ducharme had not played this calendar year. Azzi Fudd, who had been the Huskies leading scorer, has missed 17 games this season after twice injuring her right knee. Coach Geno Auriemma said he still has no timeline for her return.
UP NEXT
Creighton: The Bluejays return home to face Georgetown on Saturday.
UConn: UConn travels to Philadelphia to take on No. 14 Villanova on Saturday.
Copyright AP - Associated Press